Exhibition – Maja Maciejko
A graduate of the Katowice Academy of Fine Arts in the field of graphics, the specialty of the media. Three-year stipend of Rector Asp Katowice and stipend of the Minister of Culture and National Heritage in 2015/2016. Laureatka Grand Prix of Young Graphic Arts of Poland and the International Triennial of Digital Media. It took part in individual and group licensing exhibitions in the region and behind the border.
In the author's work, everything starts with photography, and at its base arise collages, graphics, paintings, digital compositions, posters. In her works, she sees a distinct fascination with man, especially the cobweb and the disease of life, such as the blindness of perfection.
It violates the problem of the lack of acceptance of the network, linked to this internal walk. The article treats as a type of therapy, which helps in the awareness of the problem and promotes the healing process.
In general, the company works with a company specializing in high-tech and creative photography, as well as the full function of the director of the creative Metropolitan Magazine in Warsaw and the LuxBook Magazine in Warsaw.
Wedding at Chateau Petrovice
To the west of the Czech Republic lies a beautiful small chateau Petrovice that is perfect for weddings, such as for the wedding of Zuzana and Davide. I had so much fun photographing these two kind people and I'm so honoured to be there with them on such a great day. Thank you!
Photography: Sabina Povolná / Wedding planner: Dagmar Ditetova / Make-up & hair: Lucie Konečná  / Flowers & decor: Dagmar Ditetova / Wedding location: Chateau Petrovice / Invitations: Trumade / Cake & sweet: Sladké chvíle / Dress: Milla Nova / Catering: Chateau Petrovice
Traveller Review Awards 2021 – Booking.com
We are Extremely Proud to have received a Booking.com "Travellers Review Award" for 2021. A huge thank you to our guests and to those who have left a review, it goes without saying this award is only possible because of yourselves.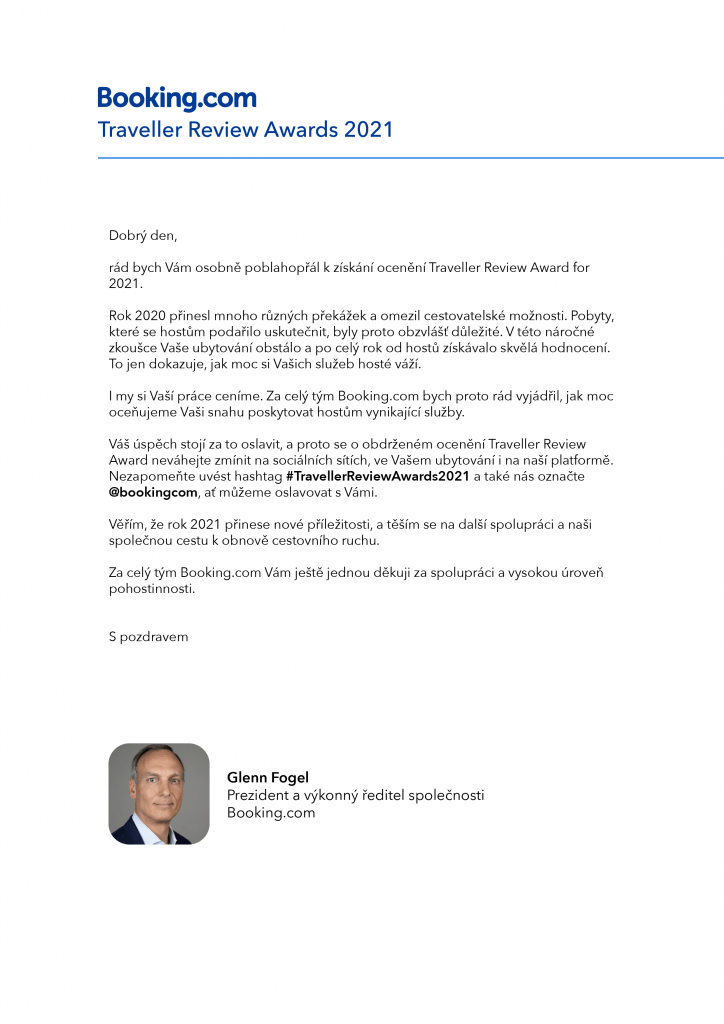 Quality Certificate for 2021
For outstanding accommodation services and positive customer feedback, Hotel.cz received the Zámeček Petrovice Quality Certificate for 2021. 98% of customers would recommend accommodation to their friends. We really appreciate this award and thank you!
An authentic place where something is always going on.
4 Star Hotel – Zámeček Petrovice is a heritage building, situated in Petrovice u Karviné, right by the Polish-Czech border. At the end of the 19th century it was the residence of Baroness Marie Louise von Wallaresee, the favorite niece of the Austrian Empress Elizabeth, mostly known as Sissi. In 2012, the Castle underwent a major renovation. The current owner of the facility is Jolanta Burkot, who manages it together with her right-hand, Michaela Smyczek. The complex has 35 rooms in the main building and the Larish Villa, a modern SPA located in a wonderful park, a stylish restaurant, a large hall, banquet rooms, a bowling alley and wine cellars. The location of Zámeček Petrovice provides guests with privacy and comfort in the form of a choice of many services directly on site.

Some "Haute cuisine" secrets you need to try at home
Discover our top tips to achieve "Haute cuisine" by Vojtěch Beseda cooking in your own kitchen.
Cook seasonally
What's in season depends on where you are in the world. But wherever you are, using ingredients that are being harvested that month always makes sense. Produce at its peak tastes better, has much more flavour, supports local farmers, has travelled fewer miles and, often, is cheaper.
Buy fruit and veg at farmers' markets if you can
If your local farmers' market is open and has social distancing measures in place, it's a great spot to buy seasonal produce. Look for a certified market which has rules about what can be sold – you want to buy produce fresh from the fields, not from an individual who has bought from a wholesaler to sell on. Talk to the producers about how their food is grown and what's coming into season. Best chefs swear by the relationships they have with their suppliers. A vegetable box subscription is also a good option.
5 reasons to buy fruits and vegetables at farmers' markets
1) Real Flavors
2) Fresh
3) Healthy
4) Affordable
5) Better for the Environment
Use Your Senses to Pick Healthy Fruits and Vegetables
Use your eyes and nose to spot the best stuff on offer. Choose tomatoes that are fragrant and not wrinkly; avocados that are free from cracks and dents; lettuce that's crisp, not slimy; kale that has deep-coloured, small leaves; white cauliflower with tightly packed florets (avoid yellow or flowering cauliflower); plump, heady garlic; and carrots without rootlets.
Get meat from local independent butchers
You might have to spend a bit more but meat from a good-quality butcher is worth it – ethical, traceable meat is important to them. They can give you advice on how to cook different cuts and will slice or debone meat for you. They can also cater to more obscure requests such as chicken bones for stock, a suckling pig or an ox heart. It's also worth visiting your local fishmonger for fish, or check out online delivery schemes.
Grow your own herbs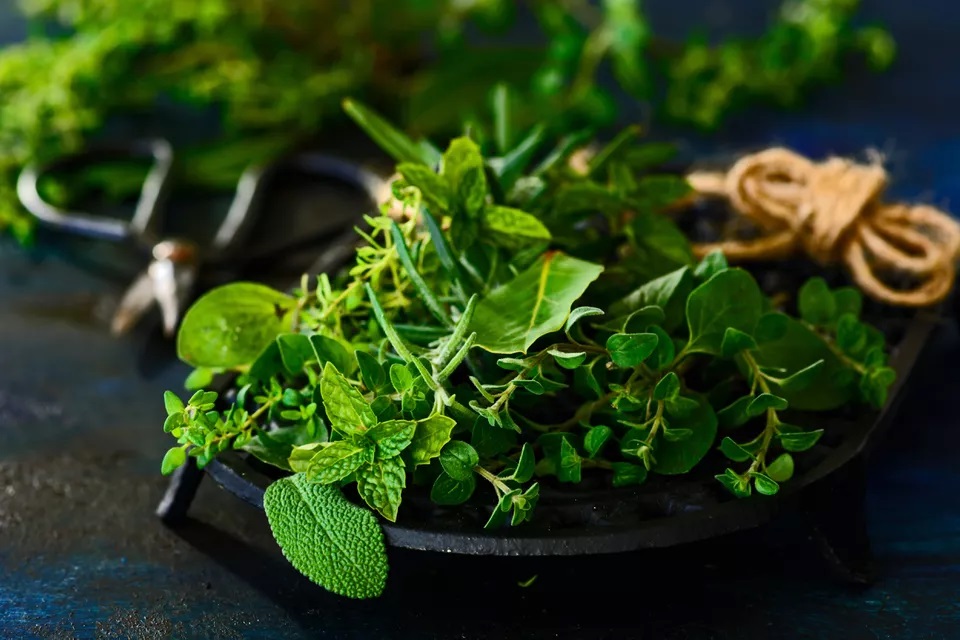 You don't need access to a balcony or garden to grow your own food – and you can't beat the flavour of fresh herbs. Many great restaurants have small veg patches for this reason. You could start with a simple basil plant or grow microgreens to use as a fancy garnish.
Everything You Need to Know When You Grow Your Own Herbs
1) Know What You Want
2) Consider Location
3) Get The Right Equipment
4) Treat Them Right
5) Use Your Herbs
Store fruit and vegetables correctly
There's no point in investing in beautiful ingredients if you don't store them with care. You might be surprised how many ingredients should never be kept in the fridge such as avocados, garlic and onions. Simple hacks like storing herbs upright in water, like flowers, will make them last much longer.
Master the classic French Sauce
One thing "Haute cuisine" restaurants get spot on is sauces and it's easy to get them right at home. At culinary school, students are taught five classic, French 'mother' sauces which form the foundations of many other sauces and dishes. They are béchamel, velouté, espagnole, sauce tomat and hollandaise. Master these five and from there you can make scalloped potatoes (with béchamel), creole sauce (with sauce tomat), and eggs benedict and béarnaise sauce (from hollandaise).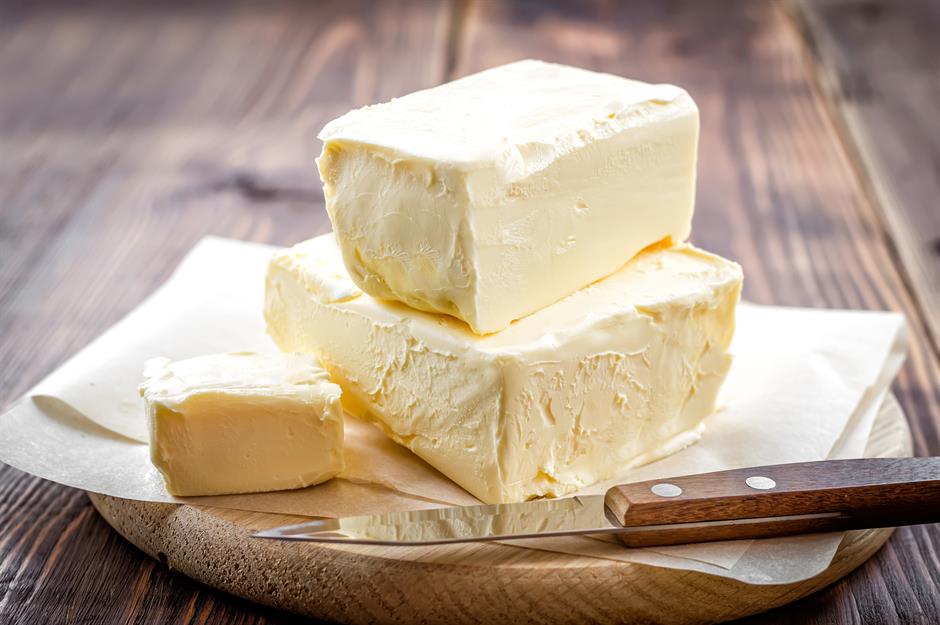 Add butter
Much of the time, the secret to great-tasting food worthy of the best restaurant is simple: use an almost unreasonable amount of butter in your cooking. The secret to the perfect steak, for example, is to add a knob of butter and a sprig of herb to the pan halfway through cooking.
Season Taste as you cookell
So many cooks, including professionals, fail to taste their food as they cook. And how? It's the best part. Sampling the ingredients while they simmer is a guaranteed way to season with intent and make the most delicious food possible.
Buy good-quality oil
Don't just season well, choose quality oil too – and make sure you use the right type for your dish. Use extra-virgin olive oil for dressings and vinaigrettes rather than for cooking. Higher heats demand a sunflower or vegetable oil.
Invest in kitchen kit
Great presentation starts with how you prep ingredients. Julienned carrots (cut into thin strips) and onions sliced and diced with consistency are visible in the final dish. Get yourself a decent set of sharp knives, a mandoline, a peeler and a hand-held grater (for shaving and fine grating). You could even splash out on getting your knives professionally sharpened once a year.
Make sure your pans are hot enough
Have you ever made food and found that half of it ended up stuck to the pan? That's because you're not letting the pan get hot enough before tossing in your ingredients. Not letting your pans warm up for 5 to 10 minutes before cooking is just one of the bad cooking habits you need to stop now.
Mise en Place: Be More Efficient in the Kitchen and in Life
Mise en place is a French culinary phrase, roughly translating to everything in its place. It refers to preparing your equipment and ingredients before you start cooking: from cleaning the surfaces and locating knives, pots and pans, to chopping onions and measuring out flour. It's vital to the smooth execution of complicated dishes and means you won't be scrabbling for the next ingredient during cooking.
Make food from scratch
Guests love attention to detail and while some techniques are best left to the restaurants, making elements of a meal such as a salad dressing, mayonnaise or bread at home is a nice touch.
Stock your kitchen with few hero ingredients
Ingredients were not all created equal and there are a handful of store cupboard saviours which have transformative qualities. A drizzle of balsamic vinegar can add sweet and sour notes to a dish; anchovies make a wonderful salty sauce; chilli flakes infuse dishes with warmth and spice; honey adds floral, sweet notes and sticky glazes to roast meat; a squeeze of lemon balances rich dishes; and umami-rich miso elevates both sweet and savoury dishes
Marinate everything
Haute cuisine cooking means adding flavour at every stage, even before you start to cook. It's not unusual to marinate meat for up to two days, to tenderise and flavour the produce. But more than meat can be marinated. Infusing fish, tofu and vegetables with flavour does wonders too.
Toast nuts and spices
Haute cuisine-quality cooking is all about little techniques and small touches that add depth to dishes such as toasting nuts and spices before cooking with them. Toast nuts in a dry pan or in the oven for 5 to 10 minutes at 150–170°C (350–375°F) until golden in colour – once cooled they'll be crisp and refreshed. Cook whole and ground spices in a dry pan to unlock their aroma but watch carefully they don't burn.
Deglaze pans
Deglazing pans is a French technique which ensures no flavour is wasted. Remove sautéed vegetables or browned meat from the pan, then pour in cold wine, stock or water to create a cloud of steam and help move any caramelised pieces of food that are stuck to the bottom. This flavourful jus can be used for gravy or just poured straight over your dish.
Use pasta water to make silky sauces
If you've ever wondered why pasta at some of the best Italian restaurants in America always seems more decadent than the stuff you make at home, the answer is very simple: pasta water. When you cook pasta, some of the starch stays behind in the water after the pasta is strained. Most restaurants finish their noodles by adding a small ladleful of starchy pasta water to the pan, and this helps to bridge the gap between pasta and sauce.
Finish your pasta in the sauce
In order to get the best, restaurant-worthy pasta, you should finish cooking your pasta directly in the sauce. This technique gives the noodles a chance to absorb even more flavor so the dish comes together as one, instead of simply being an assembly of different ingredients. Not cooking the pasta directly in the sauce is just one of many ways you've been cooking your pasta all wrong.
Set aside vegetable scraps for stock
Cutting down on waste isn't just good sense from a financial and sustainability perspective, many of the things we regularly throw out can be used to create or enhance another dish. In top restaurants, you'll never see vegetable trimmings thrown in the bin but rather into a pot for stock. The same goes for meat bones and cheese rinds.
Save bones for broth
Next time you pick some chicken wings clean to the bone, don't ditch the scraps. Here's a cooking hack you might have learned from your parents: Saving bones is a great way to amp up your broth. Simply rinse the bones and simmer with water, plus anything else you'd like to add. Allow the mixture to simmer for at least 12 hours or until the bones start to disintegrate. Then simply strain and save the liquid for up to 10 days.
Sear steak on cast iron to get a crust
Create a steak with a charred surface and tender interior by searing it on a cast iron griddle pan – they're the best at retaining heat. Make sure the pan is roaring hot before you begin and don't add butter first. Add a knob before you finish cooking the steak for ultimate caramelisation. Resting the meat is also incredibly important. It should equal the time spent cooking so if you fried steak for five minutes, let it rest for another five.
Try unusual cuts of meat in the slow cooker
Ever had a delicious, unusual cut of meat in a restaurant that you'd never consider buying? The secret to the melt-in-the-mouth texture and rich flavour is likely to be slow cooking, which can turn even the most unpromising of cuts into something wonderful. The low and slow method does wonders to the likes of beef shin or lamb neck. Better still, just like in a restaurant, slow cooking can be done ahead of time with the dish warmed before serving.
Try sous-vide
Sous-vide is a classic high-end restaurant technique which produces perfectly tender food. Food is vacuum-sealed and placed in a temperature-controlled water bath to cook slowly on a low heat. You'll have to make a hefty investment in the kit but if you really want to push the boat out and you're set on replicating restaurant-style confit duck legs, tender fillets of fish and evenly-cooked sirloin steak, it's worth considering.
Blanch vegetables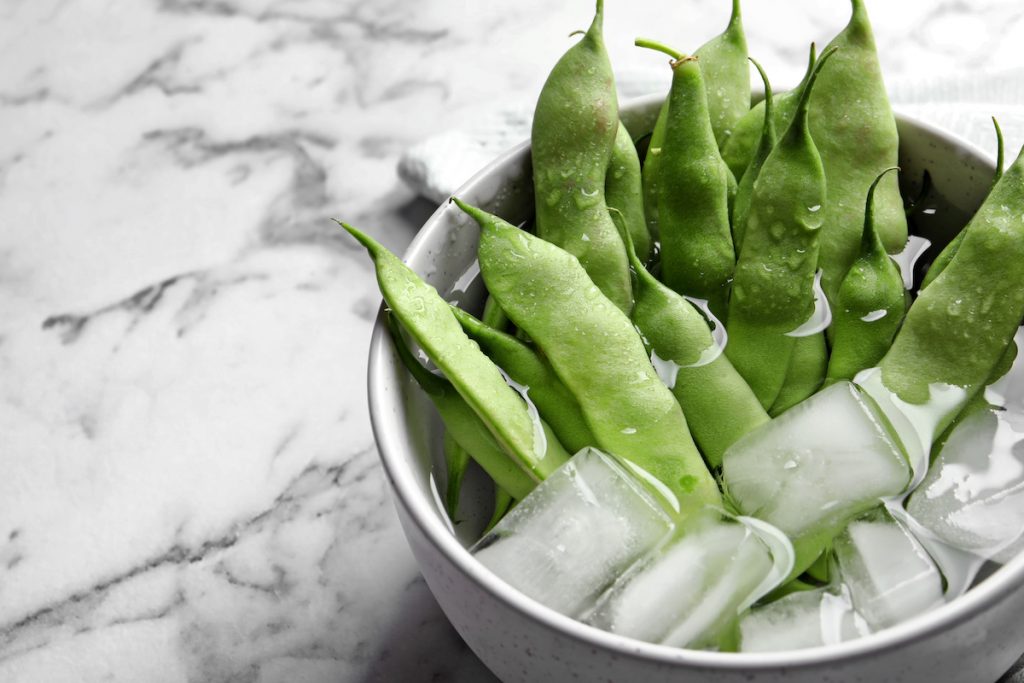 The best restaurants put as much thought into how they cook vegetables as to how they prepare meat. Blanch hard veggies to tenderise them and lock in colour, flavour and nutrients, instead of boiling them. After the vegetable is scalded in boiling water, remove and plunge into iced water to stop the cooking process.
Acidulated water is magic
To prevent certain vegetables like avocados, apples and celery from oxidizing and turning brown, turn to acidulated water. Though it may sound like some complicated culinary term, it's quite simple — just mix water and lemon juice (or some other kind of acid, such as lime juice or vinegar). Believe it or not, sprinkling your avocados with this mixture is just one way to make your food last longer.
Master a quick pickle
Pickled vegetables will elevate any meal by adding acidity and crunch, plus a pop of colour on the plate. Make a quick 20-minute pickle with thinly shaved vegetables soaked in a bowl of white vinegar, salt and sugar.
Carpaccio more than just meat
Carpaccio is a traditional Italian dish of thinly sliced raw meat or fish served as an appetiser, however top chefs have applied the technique to fruit and vegetables. Make a beetroot carpaccio with a mixture of different coloured varieties for a visually appealing starter. Alternatively, try thinly sliced kohlrabi marinated in lime juice, balsamic, honey, olive oil, salt and pepper.
Save leftover wine
You know that little bit of wine at the bottom of the bottle that you never seem to polish off? Don't chuck it. Cooking with wine is one way to amp up just about any dinner dish. It's also one of the best ways to make cheap steaks tender and delicious.
Try flambéing
Flambé refers to the technique when alcohol is added to a hot pan to create a burst of flames, adding a rich flavour to the dish and some theatre in the kitchen. Have a go at home with a 40% proof alcohol that complements the dish. Be sure to use a large ladle with a long handle and warm the booze in a pot first – pouring straight from the bottle is a safety hazard.
Make melt-in-the-mouth confit
Confit means to preserve through slow cooking in fat. Meat, fish or vegetables are poached in oil slowly, over a low heat, until they are tender and rich. A classic recipe is confit duck legs or turkey legs. To really go high-end, try confit egg yolks for the ultimate meal.
Turn plating into an art
Create a dish that captivates by choosing a large white plate that showcases the food. Take the main element of the dish and switch up the proportions. For example, serve strawberry sorbet with button-sized meringue bites and dots of cream, instead of a traditional layered pavlova. Arrange components in odd groups (one, three or five); twirl pasta; serve rice or mashed potato in metal rings then remove to create towers; and artfully pour jus or gravy.
Tidy as you go
Finally, if your kitchen and dining space are the same room, try to prep as much as you can in advance and tidy as you go. Just like the theatre, people don't mind seeing the orchestra and lights but they don't want to see the whole cast in the wings, or in this case, a load of dirty pans.
Use lemon and fresh salt to clean
If you've ever planned a dinner with salmon or tilapia, you know how difficult it can be to get rid of that fishy smell afterward. Luckily, there is an all-natural cleaner that even chefs use to wash their hands and cutting boards after working with fish. Carmine DiGiovanni, Chef for David Burke Hospitality Management, recommends mixing up some fresh lemon and salt and use it to wash up; it's just one of many natural cleaning tips for your home.
Find us on Facebook / Instagram
Vote for Zámeček Petrovice and become part of the Hotel of the Year Czech Hotel Awards.
Choose your favourite hotel and send them your thanks. Your satisfaction is the best reward. Your opinion is important to us. Vote and become part of the Hotel of the Year Czech Hotel Awards.
If you want to vote for Zámeček Petrovice, please follow these steps:
1.Go to the hotel's profile
2. Confirm the "VOTE" button
Thank You <3 <3 <3
19.10 – 3.11 2020 we are closed
From Monday 19.10 until at least November 3, 2020, when the current emergency measures expire, we are forced to shut down our hotel facility (due to government regulation, including Czech government resolution). The restaurant and Spa & Wellness are also closed.
Thank you for your understanding and hope to see you soon.
Chateau Petrovice – A hidden luxury
Our next trip brought us to the very east corner of Czech Republic, near the Polish border. Here, at the end of the world, lies the small village of Prstná, where the Chateau Petrovice is located. The Chateau has consistently placed itself on the top ranks of our competition and should definitely not go unnoticed.
This classicist estate, dating back to the 18th century, was renovated in 2012 and rebuilt into a hotel, but its original face has been preserved. Although officially labelled a four-star hotel, it fully meets the five-star standard with its quality and service.
The hotel offers a total of 35 rooms. Eleven of these are located directly in the main hotel building, while the remaining rooms are found in the tranquil villa Larisch in the Chateau park. The villa got its name after the Count Jan Larisch, who had the estate built. All rooms manage to sensitively combine the unique chateau character with the demands of a modern accommodation facility. The rooms are airy, cosy and you will find anything you need here during your stay.
In the entire hotel area, it is clear that attention is being paid to every detail and nothing is left to chance. The monogram ZP ('Zámeček' or Chateau Petrovice) is repeated throughout the interior in many forms. What particularly caught our eye was the designer chandelier in one of the lounges, which displays the monogram when lit, leaving a reflection on the side of your glass. Another original detail evidencing the owner's, Jolanta Burkotová's, true connection to the place, were her earrings, which also carried the engraved monogram.
In the hotel, you will find several unconventional interior layouts. On its own, a winery is surely nothing out of the ordinary, but would you expect to find it hidden beneath a glass cover under the reception? You can, therefore, select your wine already upon arrival. Art connoisseurs should turn their attention to the hotel's walls, which are embellished with original artistic pieces. All paintings have been commissioned for the chateau directly or acquired in charity auctions.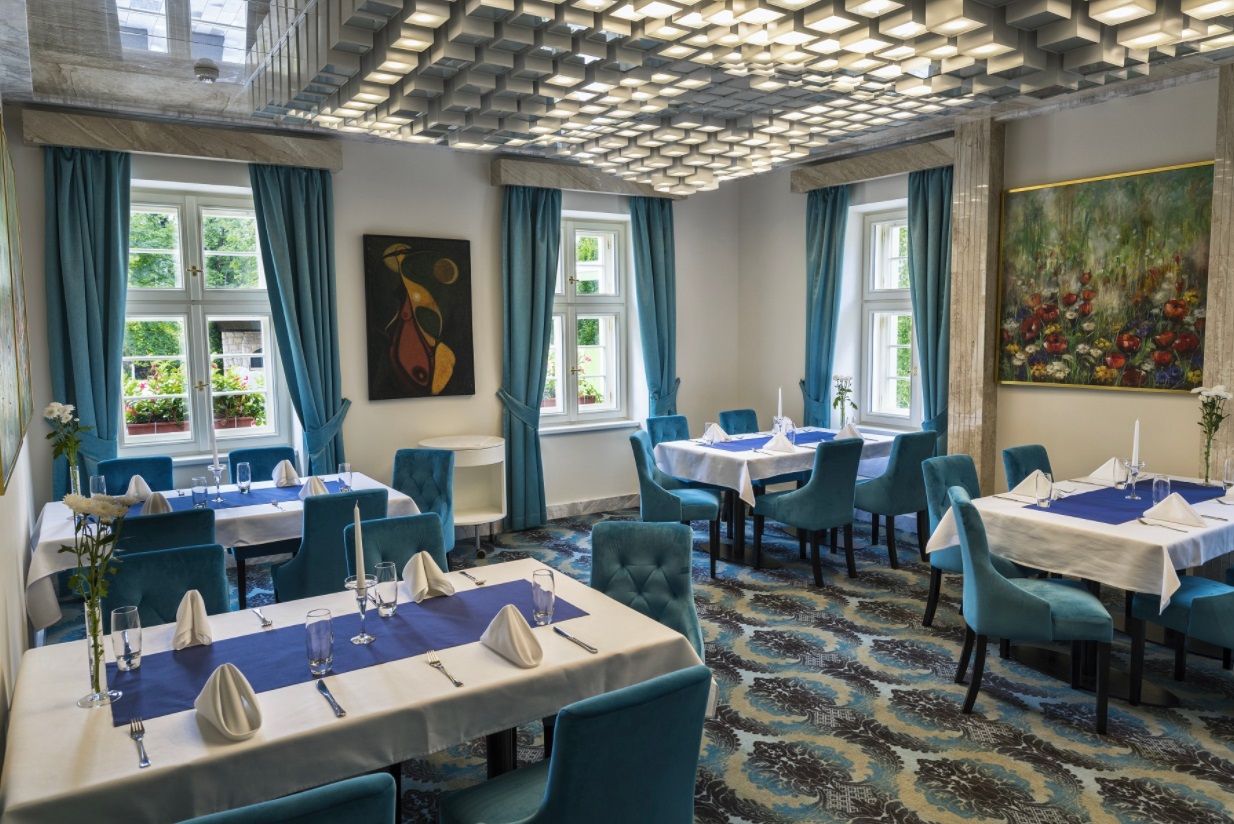 Arriving at the hotel by car? No problem, you can park in the parking lot hidden underground, so as not to disrupt the atmosphere of the chateau park. The hotel has two halls with a total capacity of up to 100 people. These can be used both for meeting with your business partners and for organizing social events, such as weddings. The hotel meets the highest of standards, so it is not unusual to meet guests, such as the headliners from the popular music festival Colors of Ostrava, in the hallway. It is, understandably, highly recommended to book your stay at the hotel well in advance.
Well worth mentioning is the hotel catering. In the preparation of meals, the emphasis is placed on quality and local ingredients. Whether you're a vegetarian or a lover of Asian cuisine, are watching your figure or prefer gluten-free, you can expect quality, delicious meals. The hotel restaurant always tries to surprise its guests with something that sets them apart from the rest. The menu is changed up regularly according to the season. An oyster mushroom farm is not your common hotel facility, but it is to be found here. We tried the oyster mushroom tartar and we are already looking forward to returning for a second round. For a perfect dining experience, allow their experienced sommelier to advise you on the selection of wine to complete your meal. We can only recommend that you come and taste it for yourself.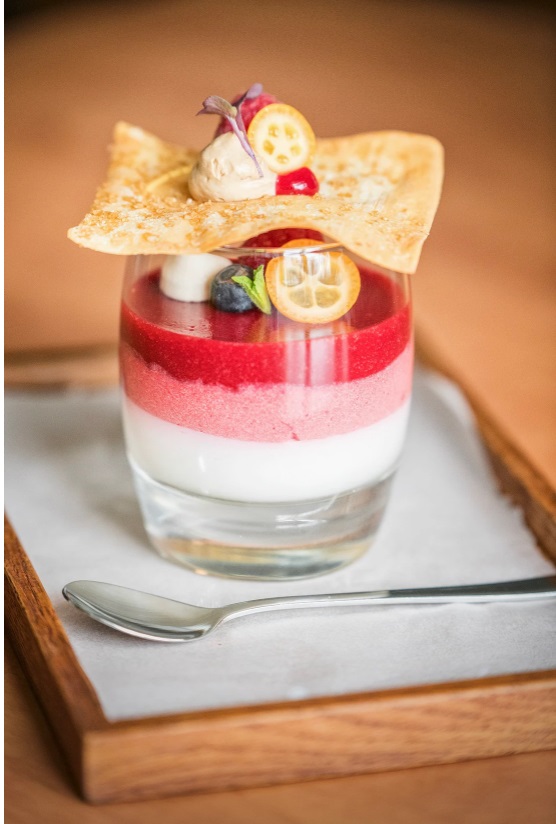 You won't just be pampered by cosy rooms and delectable cooking, but also by the hotel's vast selection of wellness procedures, which are held to a high standard at the hotel. You won't know which section to visit first, as the wellness area expands over almost 800 m2. You can choose from all kinds of procedures such as various types of saunas, a Kneipp pool, whirlpool, massages and cosmetic treatments. Each room its thematically designed. You will find materials such as marble, wood, pearl or Himalayan salt tiling. You can make your choice of theme and enjoy a freshly prepared drink for a fully relaxing experience. The chateau Petrovice also offers one speciality, which is not found anywhere else in the Czech Republic. What do you imagine being in seventh heaven feels like? Not sure? Here you can try it out for yourself. A machine with this very name, which looks like something from a sci-fi film, will treat you to a therapeutic procedure that will leave you feeling like you've had the most restful night's sleep, rejuvenated and "reborn," both physically and mentally.
We must not forget the enchanting chateau park, which is protected by the state and rightly so. Beautiful mature trees, natural ponds, one of which you can bathe in on hot days or just enjoy watching the fish and swans that are kept there. If you like tulips, stop by in the spring. Up to 4,000 tulips from Holland are planted here, so you can enjoy their colourful beauty without having to travel across Europe. The park also houses a permanent exhibition of sculptures by Blanka Matragi. The park is freely accessible to the public, so you can also come and enjoy a delicious meal on the hotel terrace or just take a walk with the children.
By now you probably know that you will be royally taken care of at the Chateau Petrovice. You may be wondering, however, how to fill your days when staying for longer. There are countless possibilities. If you've tried everything in the hotel's wellness and would like some entertainment, you can play bowling right at the hotel or take part in one of the many events the hotel prepares for its guests and the public, whether it is a picnic in the castle park, an exhibition, champagne tasting or outdoor cinema in the summer. You will definitely not be bored.
If you wish to explore the surroundings, we recommend visiting the nearby golf course, take a trip to Ostrava for sightseeing, visit the castle in Karviná, admire the oblique church of St. Peter from Alkantara, hit the surrounding cycling paths towards Poland or make a trip to the beautiful Beskid Mountains.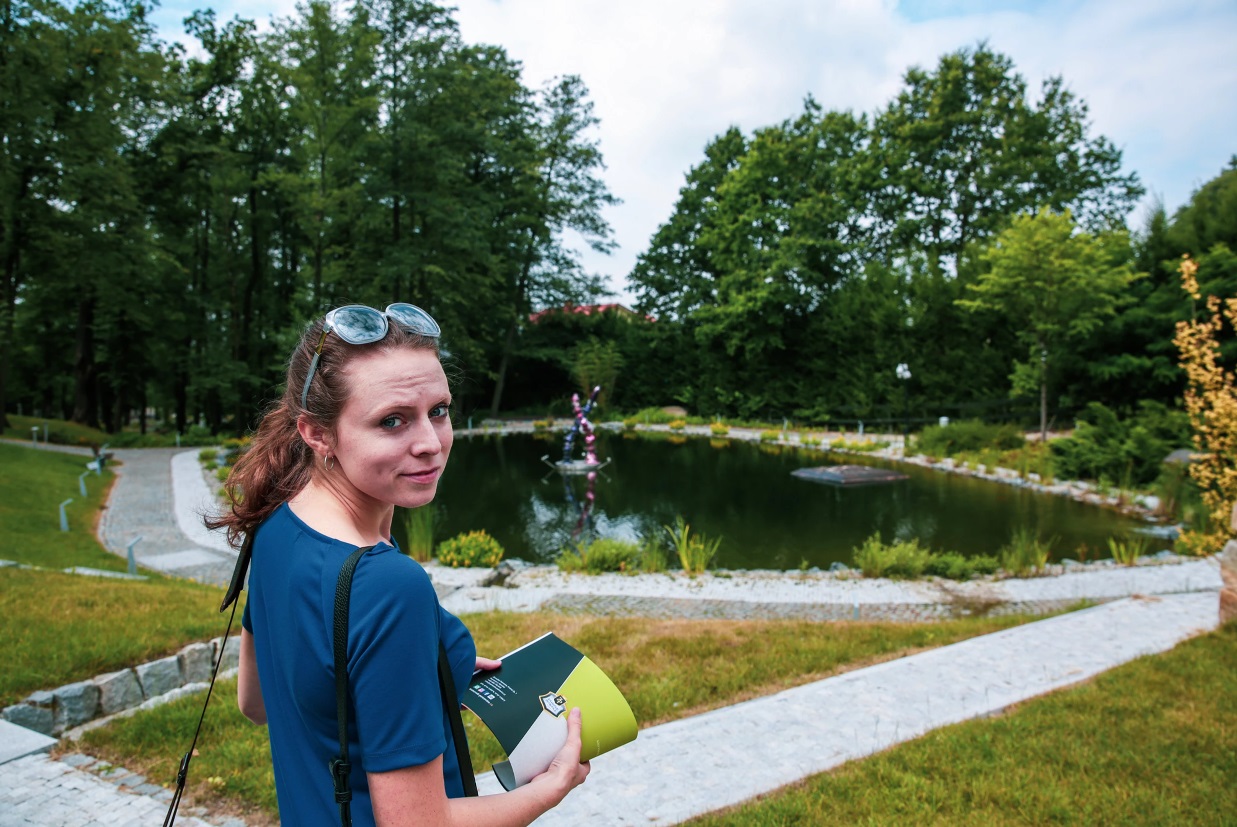 The love and energy that the owner pours into the chateau, with the help of her dedicated staff, is reflected in every piece of the castle complex. The hustle and bustle of running a hotel is elegantly hidden away from the guests view, creating the reassuring feeling that everything is in complete harmony and all of your wishes can be fulfilled as if by magic.
Top 3:
Wellness
Chateau park
Gastronomy
www.blog.hotelawards.cz / Facebook
Positiv Business & Style 4/2019
Overwhelming happiness, comfort and relaxation will embrace you at Petrovice Castle!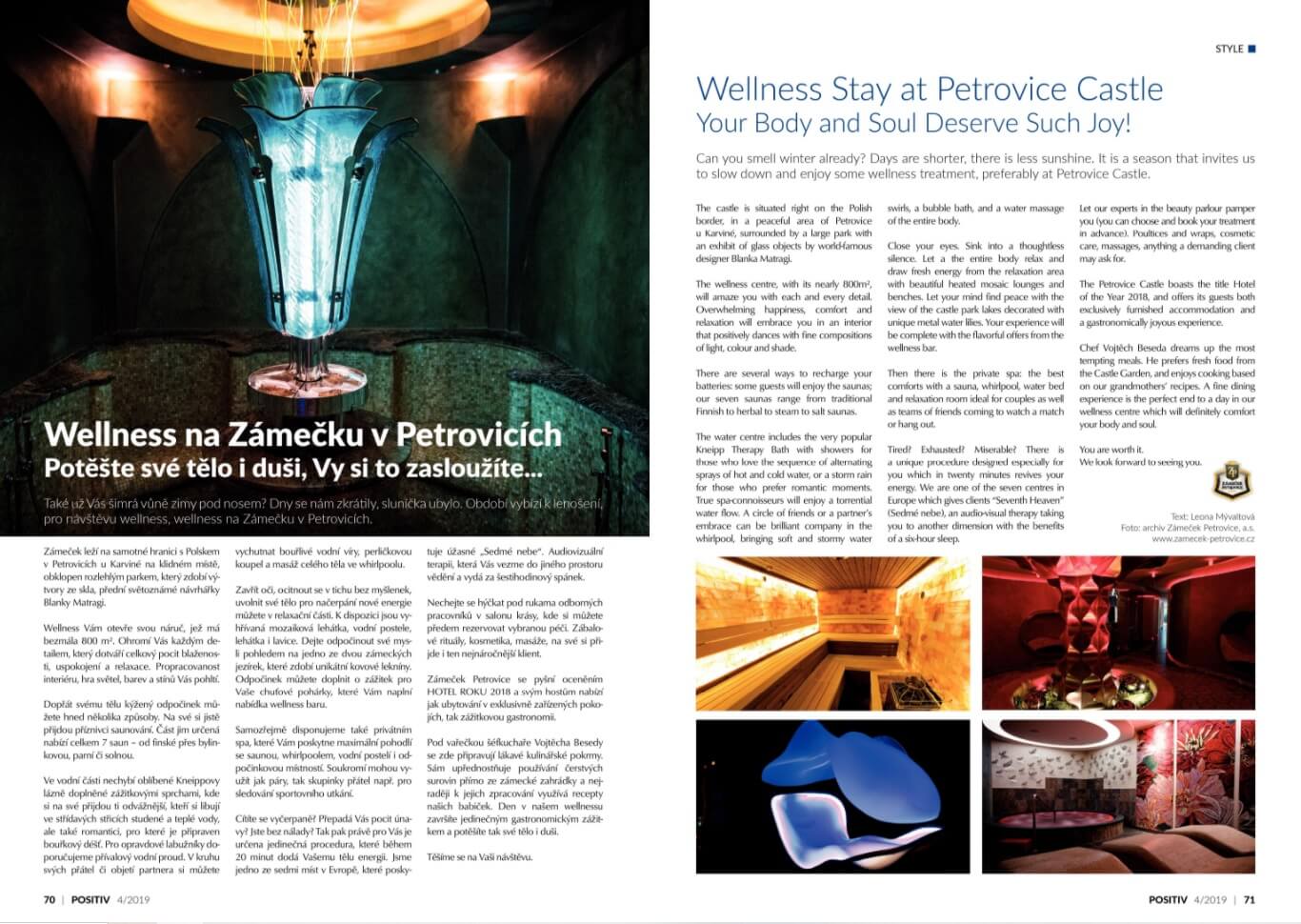 Review of Chateau Petrovice Czech Republic
Feelings of anticipation, excitement, nervousness and even uncertainty ran through me as we headed out to enjoy a day out at Chateau Petrovice. The word 'chateau' conjures up to me an image of luxury, old-world charm and history but then when you have the word 'chateau' combined with the word 'wellness' and you are in the Czech Republic, well your mind 'runneth over' with high expectations. What will this day bring?
Our journey commenced in Ostrava, the northeastern capital of the region of Moravia Silesian in the Czech Republic and only 15km from the Polish border. We were in great company with 3 other global bloggers, Pam and John from Always 5 Star and Alexandra from Crazy Sexy Fun Traveler who we had just met for the first time. We were 5 of 500 travel bloggers that had just arrived in Ostrava for the TBEXOstrava 2018 Conference – (Travel Bloggers Exchange).
Our day visit to the Chateau Petrovice was organized by Czech Tourism, Moravian-Silesian Tourism, TBEX Ostrava 2018 and Zamecek Petrovice. Our brief was to visit the high-class wellness centre and enjoy lunch before heading back to Ostrava. What we did not expect was how 'high-class' and unique the wellness centre actually was and what we experienced there! Just to whet your appetite slightly, there are only 2 special treatments in the world and one of them is located here. You will just have to read on to find out more.
This post may contain affiliate links. Please see our disclosure for more information. As an Amazon Associate, we earn from qualifying purchases (if applicable).
We caught glimpses of the impressive entrance to the Chateau Petrovice through the trees as the driveway wound through the manicured gardens reaching the dazzling cream historic building which dates back to the 18th Century. As we learnt during our one-month travels throughout the Czech Republic their spectacular and always beautiful Chateaux and Castles have a chequered history, some have survived and prospered and others have been renovated and others well the costs are too great to consider to repair. A slight gasp from some of us as we tried to take in the beauty that was in front of us.
Zamecek Petrovice translated in English means Castle Petrovice, and lucky it was one of those that have survived.
Location of Chateau Petrovice
Just 35 minutes outside of Ostrava and just 70 km from the Polish town of Katowice lies the Chateau Petrovice in the Czech Republic region of Moravia Silesia.
A Touch of History
In 1796 the manor house was constructed as a two-winged building in the Empire Style and owned by the Gussnars of Komorna. The family created a very important library that housed many rare works of literature.
In 1879 the property was sold to the Counts of Larissa and within 4 years the Chateau became the seat of the Counts of George and Marie Louise Larisch-Monnich.
In 1893 the Chateau was then passed into the hands of the Larissa Counts from Karvina.
In 1927 a Czech Elementary Scool was established in the building on the 1st floor.
During World War 2 the Chateau was used for military purposes as the Headquarters for the German Army in the area.
In 1947 the property was acquired by Stepan and Marta Wnuka and on their death became the property of the National Committee of Karvina.
In 1985 it was owned by Jednota-Jednosc in Cesky Tesin where they established the hotel and restaurant.
In 1999 the hotel was returned to its legal owners.
In October 2012 the property was purchased by Trestles who undertook major renovations including preservation of the original facade and changes to the park and driveway.
Our Personal Tour of the Facilities of the Hotel
Everyone has entered a wine cellar before, but we bet you have not been to a wine cellar that is see-through, and one that you enter beside the Reception Desk where the partial floor lifts up and see-through steps lead you to a very well stocked and expensive collection of wines and champagnes. This is one wine cellar that you want to visit and we had our own personal tour. Some were so expensive that we held our breath as we stepped past them, a slight nudge from any one of us, would have us rushing to the bank to take out a small mortgage to cover the damage. As you can imagine there was a slight chill in the air, a relief from the heat outside.
Restaurant
The Restaurant of Chateau Petrovice is located close to the entrance of the hotel and is open from 12.00 to 22.00 daily.
Great Hall
On the first floor is the Great Hall that can seat up to 100 people for functions.
Banquet Hall – also known as the Blue Room
A Banquet Hall is available for family celebrations and meetings and can seat up to 20 people. The Blue Room has been decorated in stunning blue colours with matching artwork.
One of our favourite rooms – The Knights Hall
If we were going to have a private dinner for 14 this is where we would recommend. Actually, it would be perfect for wine tasting as the wine cellar is located just beside it. As the name suggests it is a room that has been decorated with Knight's Armour. Thoughts of sitting here with a chilled white Moravian wine and some cheese ran through my mind, but we had work to do we had to see the rest of the Chateau and the Spa.
Bowling Alley – how many hotels have you visited that has a Bowling Alley
Whilst enjoying a drink at the bar you can play 10 pin bowls with 2 tracks available or enjoy a game of darts or table football. There is a special treat for men in the men's toilet. BTW the ladies in the group got a special tour of the men's toilet. (check out our YouTube video below) I can't say that I have been in many men's toilets (actually only the once when I mistook it for the ladies in an expensive hotel) but this one was a treat and a giggle!
Night Bar
There is even a bar that opens up at 22.00 hours and closes at 01.00 for those who like to have a nightcap.
Accommodation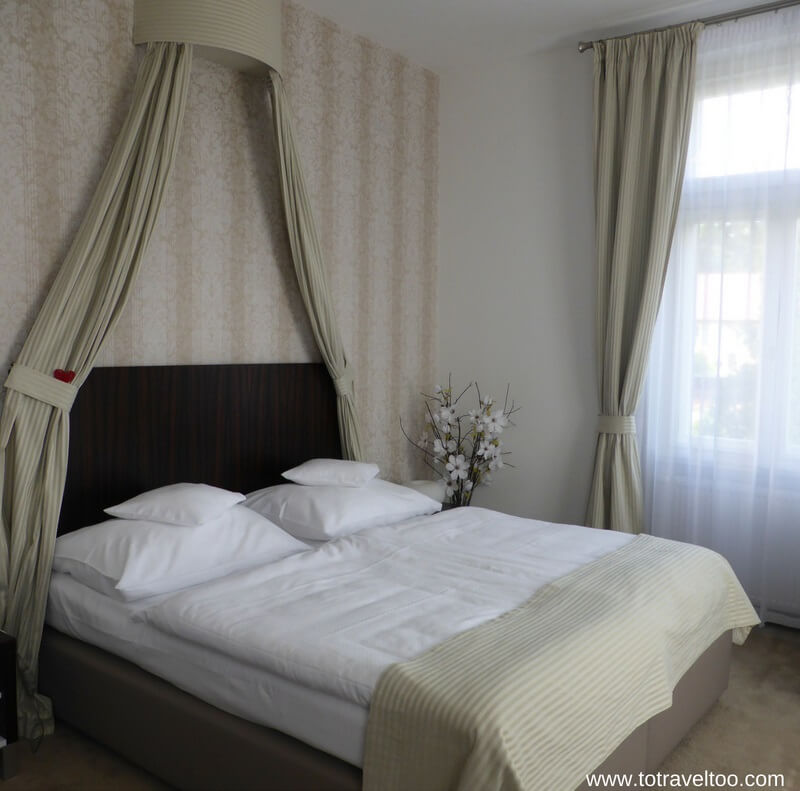 All bedrooms have been decorated luxuriously in soothing relaxing colours, comfortable king-size beds and 'the best' bed linen. There are 34 rooms made up of:
In the Chateau 9 standard bedrooms, 1 comfort category and 1 deluxe
In the quiet Vila Larish located near the Spa, there are 23 standard category rooms
We were surprised when we asked the price of each room on how affordable the stay would be here in the Chateau, we could definitely stay here for a while and catch up on our writing and work.
The summer temperatures have risen over the years in the Czech Republic and not many hotels have air-conditioning available, we were pleased to see that the rooms here had installed the latest air conditioners.
We were very impressed with the stylish decor throughout the whole of the Chateau – the vibe 'relaxing'.
Lunch at Chateau Petrovice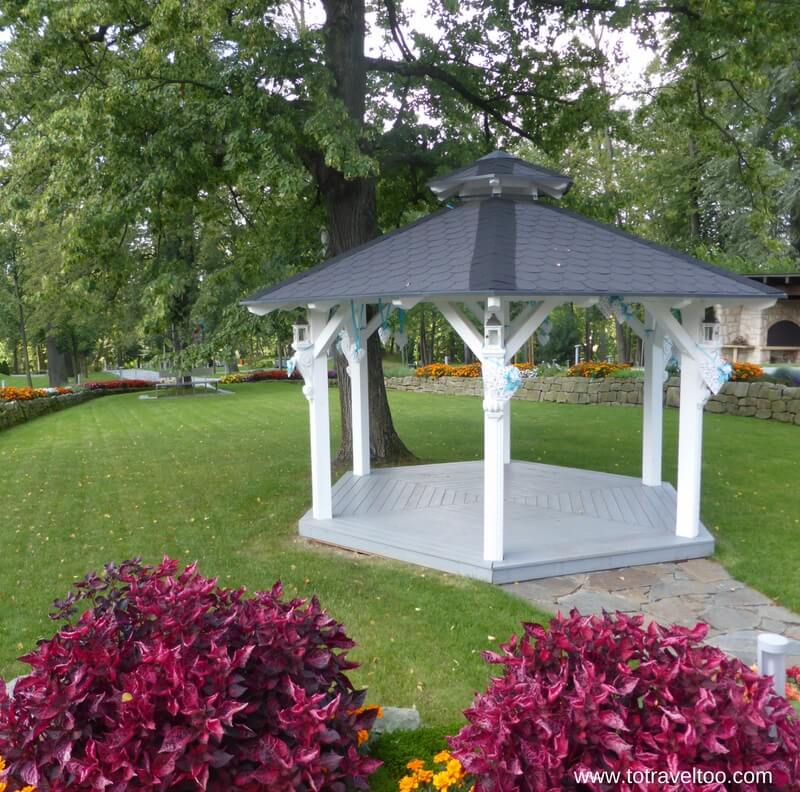 For lunch, we were given an option of eating in the Dining Room with a selection of dishes from the a la carte menu or a picnic outside. The weather was perfect, so the idea of a picnic in the idyllic garden setting was too hard to say no to!
We spent time enjoying the garden around us whilst sipping on a glass of 'bubbles' waiting for our picnic basket.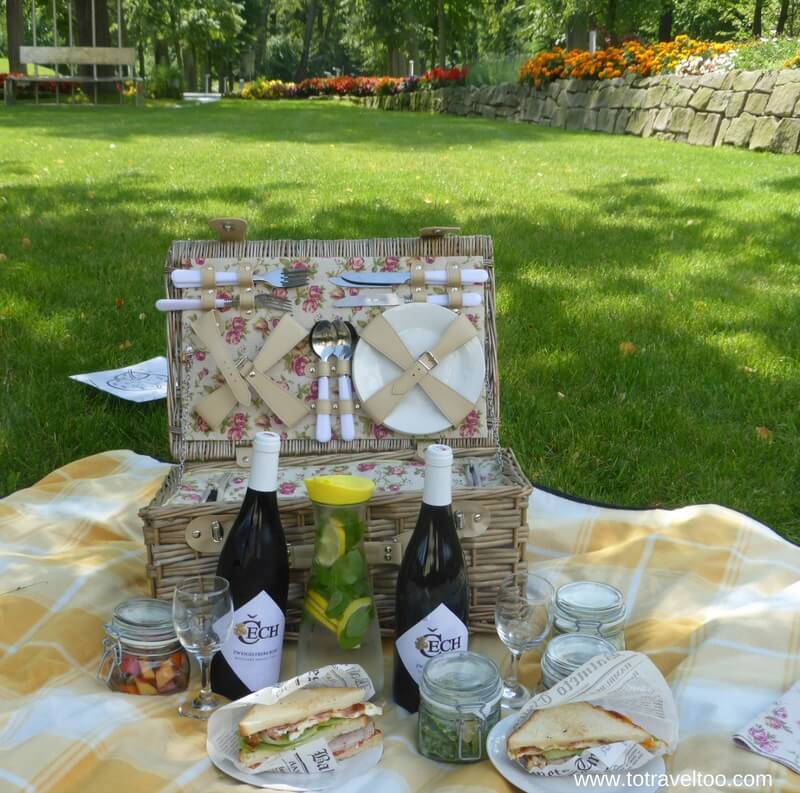 A traditional woven picnic basket arrived full of 'yummy' goodies, club sandwiches, Caesar salad in cute jars, fresh fruit and a creamy dessert to die for. For drinks, a bottle of chilled white wine direct from their special cellar and fruit flavoured water. A picnic selection like no other – even Harrods could not put together a better selection of local produce.
The Stylish Wellness Centre of the Chateau Petrovice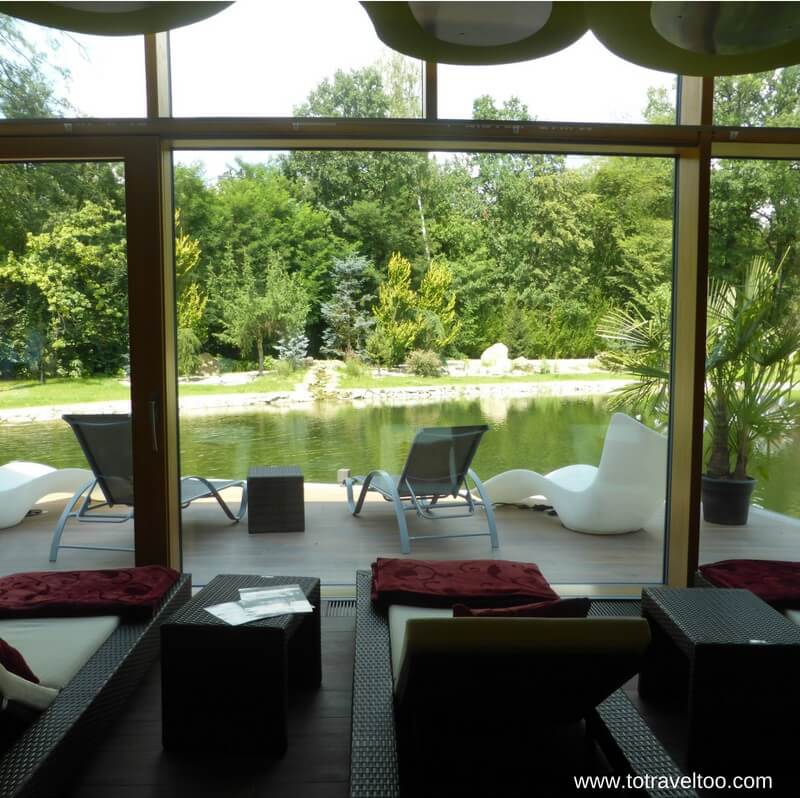 The Chateau Petrovice has one of the most welcoming and stylish Wellness centres we have seen. 800 m2 in size the Wellness Centre is located in the Chateau's park near two ponds. Resident swans enjoy the use of the ponds and the grounds as they waddle around. The facilities include:
7 saunas (herbal and steam)
Wellness Bar
A private spa area with a private whirlpool, water beds, showers and a relaxation zone
A well-equipped Gym
Hot and cold foot spa
Massages and treatments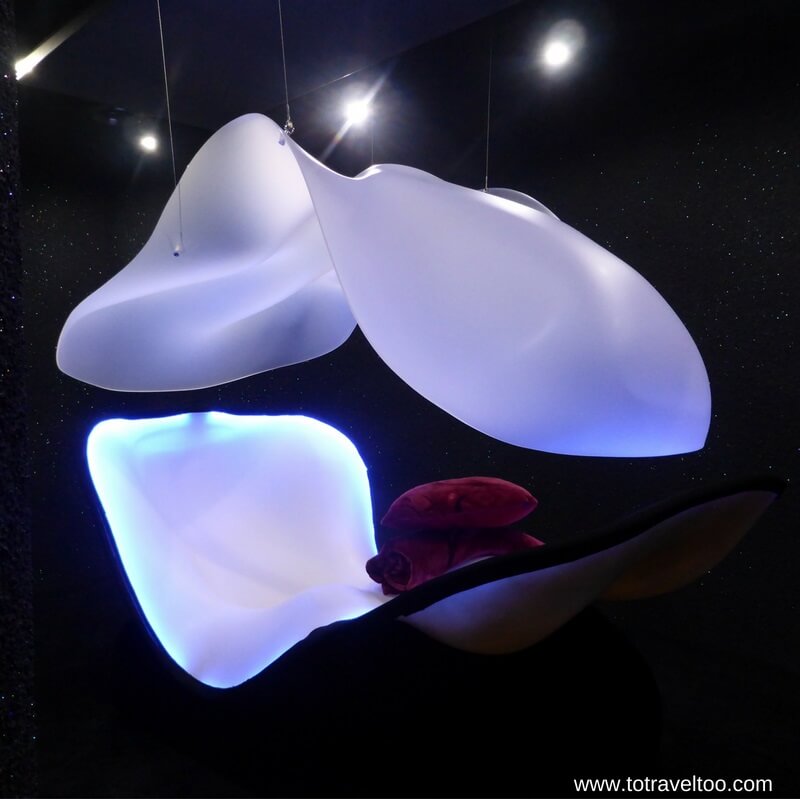 "seventh heaven" an audiovisual experience that is used by the world's doctors and sportsmen who are looking for an effective relaxation, solutions to physical problems and many other physical and mental benefits. Just 20 minutes of laying in this 'seventh heaven' machine is equal to 8 hours of refreshing sleep. We certainly felt better after our session. There is only one in the Czech Republic and we believe there is only one elsewhere in the world. A special treat for all of us.
Sun decks where you can relax and enjoy a drink or two
After our 'seventh heaven' experience, some 'bubbles' by the pond topped off our wellness experience.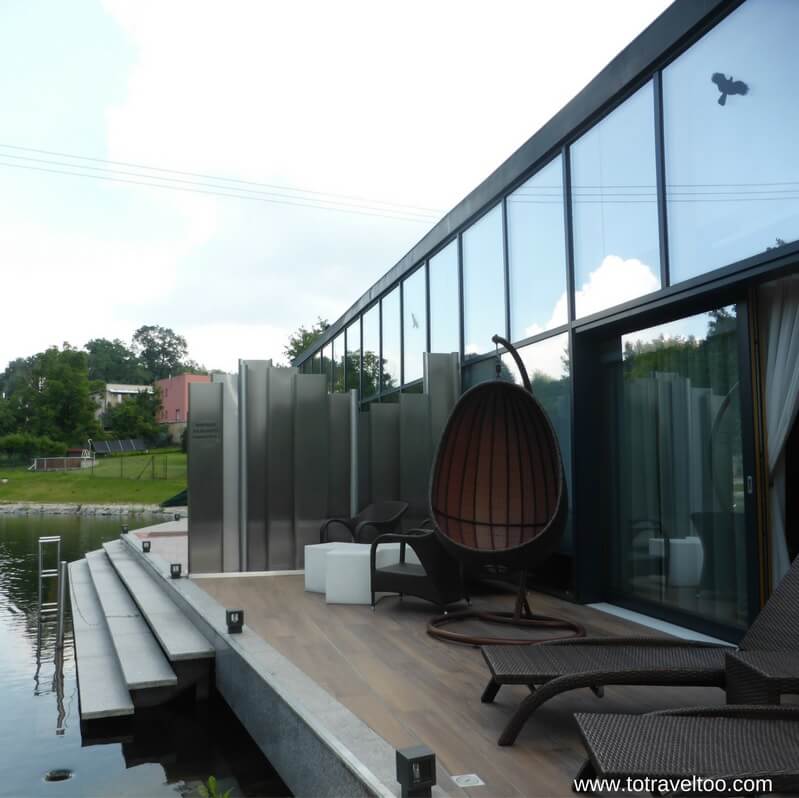 To say we were spoilt that day is an understatement. The staff went out of their way to make sure our visit was a very memorable one. I did check the reviews in Tripadvisor after we returned back to our hotel in Ostrava and when headings like "hidden treasure", "amazing experience", "hidden gem" and "paradise where least expected" were written by other travellers you know that you have come across something special.
Everyone needs some time out from their busy schedules, and give back to themselves, and what better place or location in the Czech Republic than the Chateau Petrovice. But… just don't do yourself an injustice and stay for one night, stay for a week and reap the benefits, you will certainly leave there feeling refreshed and revigorated. We are definitely returning.
We thank Chateau Petrovice, Visit Czech Republic, Moravian-Silesian Tourism and TBEXOstrava2018 for giving us the opportunity of spending a day at the Chateau Petrovice to showcase all that is available.