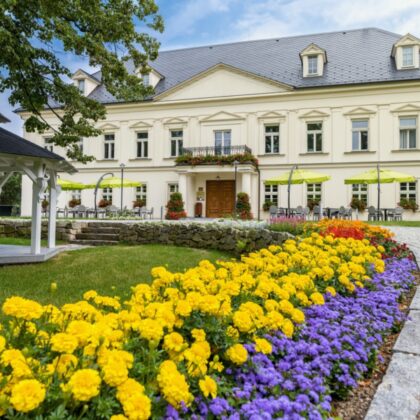 Review of Chateau Petrovice Czech Republic
Feelings of anticipation, excitement, nervousness and even uncertainty ran through me as we headed out to enjoy a day out at Chateau Petrovice. The word 'chateau' conjures up to me an image of luxury, old-world charm and history but then when you have the word 'chateau' combined with the word 'wellness' and you are in the Czech Republic, well your mind 'runneth over' with high expectations. What will this day bring?
Our journey commenced in Ostrava, the northeastern capital of the region of Moravia Silesian in the Czech Republic and only 15km from the Polish border. We were in great company with 3 other global bloggers, Pam and John from Always 5 Star and Alexandra from Crazy Sexy Fun Traveler who we had just met for the first time. We were 5 of 500 travel bloggers that had just arrived in Ostrava for the TBEXOstrava 2018 Conference – (Travel Bloggers Exchange).
Our day visit to the Chateau Petrovice was organized by Czech Tourism, Moravian-Silesian Tourism, TBEX Ostrava 2018 and Zamecek Petrovice. Our brief was to visit the high-class wellness centre and enjoy lunch before heading back to Ostrava. What we did not expect was how 'high-class' and unique the wellness centre actually was and what we experienced there! Just to whet your appetite slightly, there are only 2 special treatments in the world and one of them is located here. You will just have to read on to find out more.
This post may contain affiliate links. Please see our disclosure for more information. As an Amazon Associate, we earn from qualifying purchases (if applicable).
We caught glimpses of the impressive entrance to the Chateau Petrovice through the trees as the driveway wound through the manicured gardens reaching the dazzling cream historic building which dates back to the 18th Century. As we learnt during our one-month travels throughout the Czech Republic their spectacular and always beautiful Chateaux and Castles have a chequered history, some have survived and prospered and others have been renovated and others well the costs are too great to consider to repair. A slight gasp from some of us as we tried to take in the beauty that was in front of us.
Zamecek Petrovice translated in English means Castle Petrovice, and lucky it was one of those that have survived.
Location of Chateau Petrovice
Just 35 minutes outside of Ostrava and just 70 km from the Polish town of Katowice lies the Chateau Petrovice in the Czech Republic region of Moravia Silesia.
A Touch of History
In 1796 the manor house was constructed as a two-winged building in the Empire Style and owned by the Gussnars of Komorna. The family created a very important library that housed many rare works of literature.
In 1879 the property was sold to the Counts of Larissa and within 4 years the Chateau became the seat of the Counts of George and Marie Louise Larisch-Monnich.
In 1893 the Chateau was then passed into the hands of the Larissa Counts from Karvina.
In 1927 a Czech Elementary Scool was established in the building on the 1st floor.
During World War 2 the Chateau was used for military purposes as the Headquarters for the German Army in the area.
In 1947 the property was acquired by Stepan and Marta Wnuka and on their death became the property of the National Committee of Karvina.
In 1985 it was owned by Jednota-Jednosc in Cesky Tesin where they established the hotel and restaurant.
In 1999 the hotel was returned to its legal owners.
In October 2012 the property was purchased by Trestles who undertook major renovations including preservation of the original facade and changes to the park and driveway.
Our Personal Tour of the Facilities of the Hotel
Everyone has entered a wine cellar before, but we bet you have not been to a wine cellar that is see-through, and one that you enter beside the Reception Desk where the partial floor lifts up and see-through steps lead you to a very well stocked and expensive collection of wines and champagnes. This is one wine cellar that you want to visit and we had our own personal tour. Some were so expensive that we held our breath as we stepped past them, a slight nudge from any one of us, would have us rushing to the bank to take out a small mortgage to cover the damage. As you can imagine there was a slight chill in the air, a relief from the heat outside.
Restaurant
The Restaurant of Chateau Petrovice is located close to the entrance of the hotel and is open from 12.00 to 22.00 daily.
Great Hall
On the first floor is the Great Hall that can seat up to 100 people for functions.
Banquet Hall – also known as the Blue Room
A Banquet Hall is available for family celebrations and meetings and can seat up to 20 people. The Blue Room has been decorated in stunning blue colours with matching artwork.
One of our favourite rooms – The Knights Hall
If we were going to have a private dinner for 14 this is where we would recommend. Actually, it would be perfect for wine tasting as the wine cellar is located just beside it. As the name suggests it is a room that has been decorated with Knight's Armour. Thoughts of sitting here with a chilled white Moravian wine and some cheese ran through my mind, but we had work to do we had to see the rest of the Chateau and the Spa.
Bowling Alley – how many hotels have you visited that has a Bowling Alley
Whilst enjoying a drink at the bar you can play 10 pin bowls with 2 tracks available or enjoy a game of darts or table football. There is a special treat for men in the men's toilet. BTW the ladies in the group got a special tour of the men's toilet. (check out our YouTube video below) I can't say that I have been in many men's toilets (actually only the once when I mistook it for the ladies in an expensive hotel) but this one was a treat and a giggle!
Night Bar
There is even a bar that opens up at 22.00 hours and closes at 01.00 for those who like to have a nightcap.
Accommodation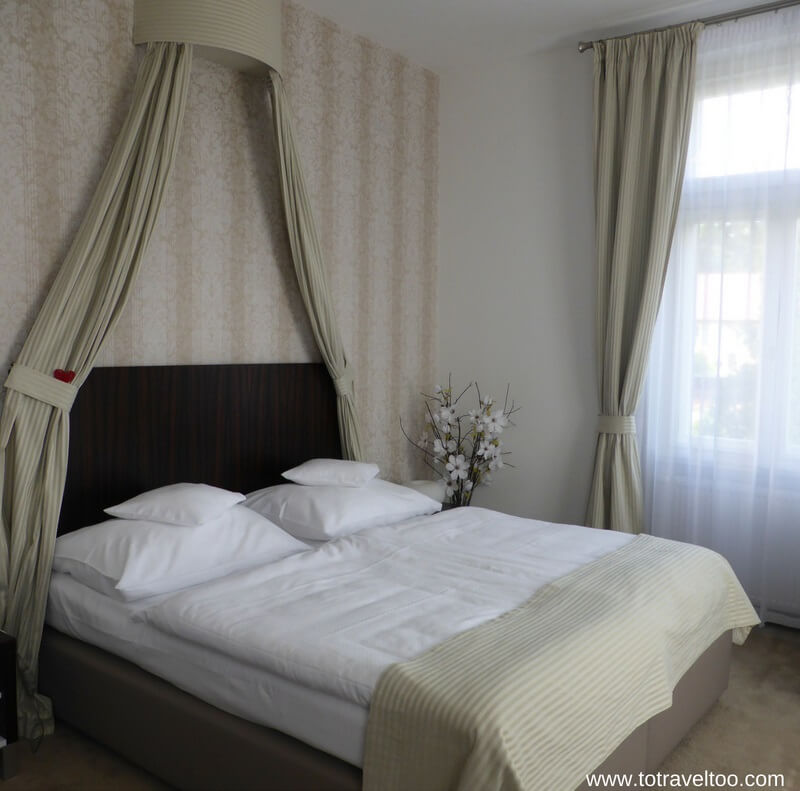 All bedrooms have been decorated luxuriously in soothing relaxing colours, comfortable king-size beds and 'the best' bed linen. There are 34 rooms made up of:
In the Chateau 9 standard bedrooms, 1 comfort category and 1 deluxe
In the quiet Vila Larish located near the Spa, there are 23 standard category rooms
We were surprised when we asked the price of each room on how affordable the stay would be here in the Chateau, we could definitely stay here for a while and catch up on our writing and work.
The summer temperatures have risen over the years in the Czech Republic and not many hotels have air-conditioning available, we were pleased to see that the rooms here had installed the latest air conditioners.
We were very impressed with the stylish decor throughout the whole of the Chateau – the vibe 'relaxing'.
Lunch at Chateau Petrovice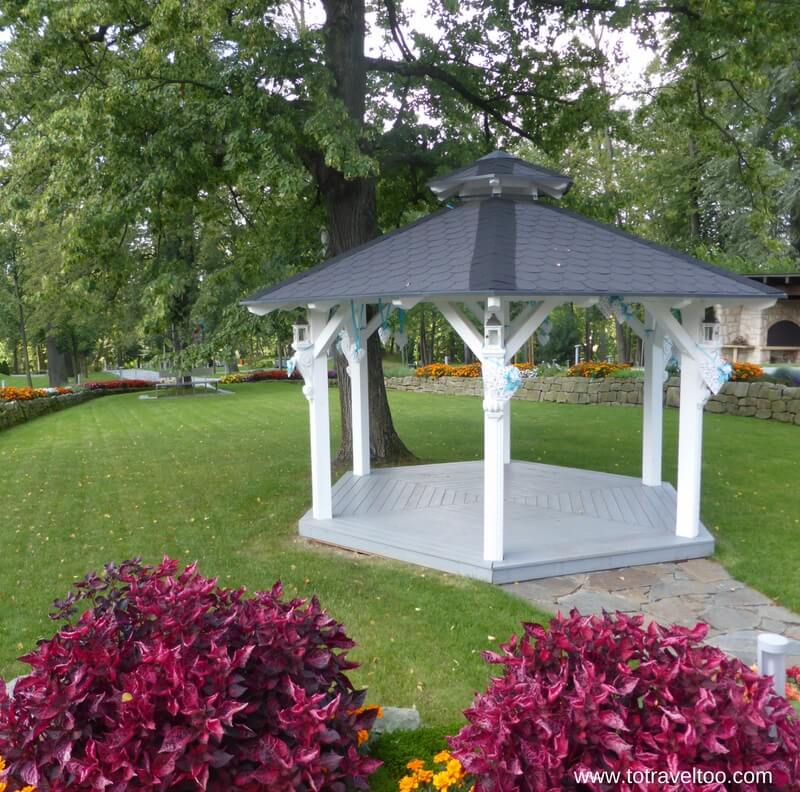 For lunch, we were given an option of eating in the Dining Room with a selection of dishes from the a la carte menu or a picnic outside. The weather was perfect, so the idea of a picnic in the idyllic garden setting was too hard to say no to!
We spent time enjoying the garden around us whilst sipping on a glass of 'bubbles' waiting for our picnic basket.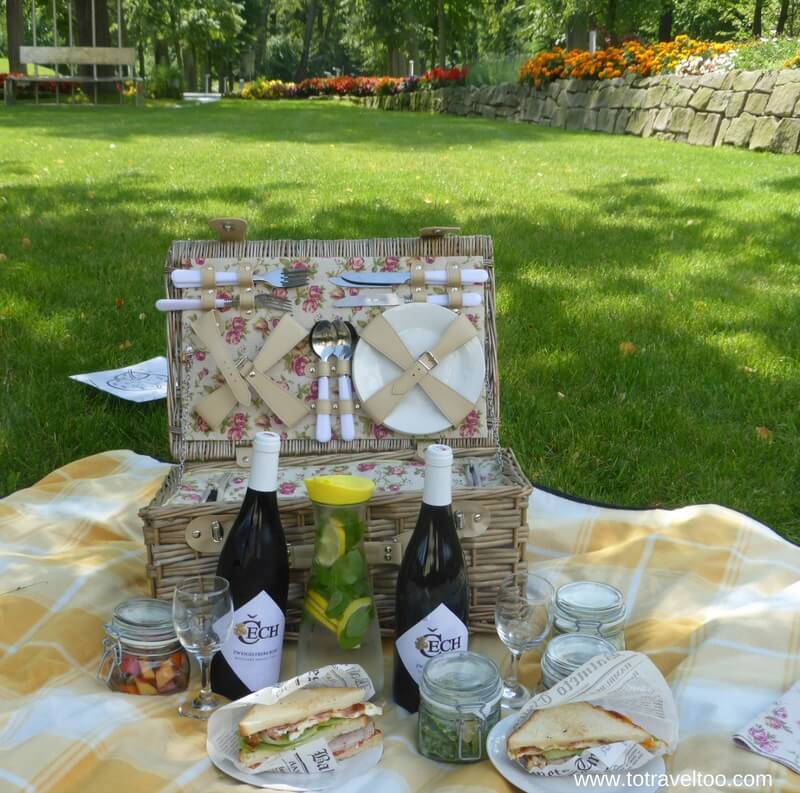 A traditional woven picnic basket arrived full of 'yummy' goodies, club sandwiches, Caesar salad in cute jars, fresh fruit and a creamy dessert to die for. For drinks, a bottle of chilled white wine direct from their special cellar and fruit flavoured water. A picnic selection like no other – even Harrods could not put together a better selection of local produce.
The Stylish Wellness Centre of the Chateau Petrovice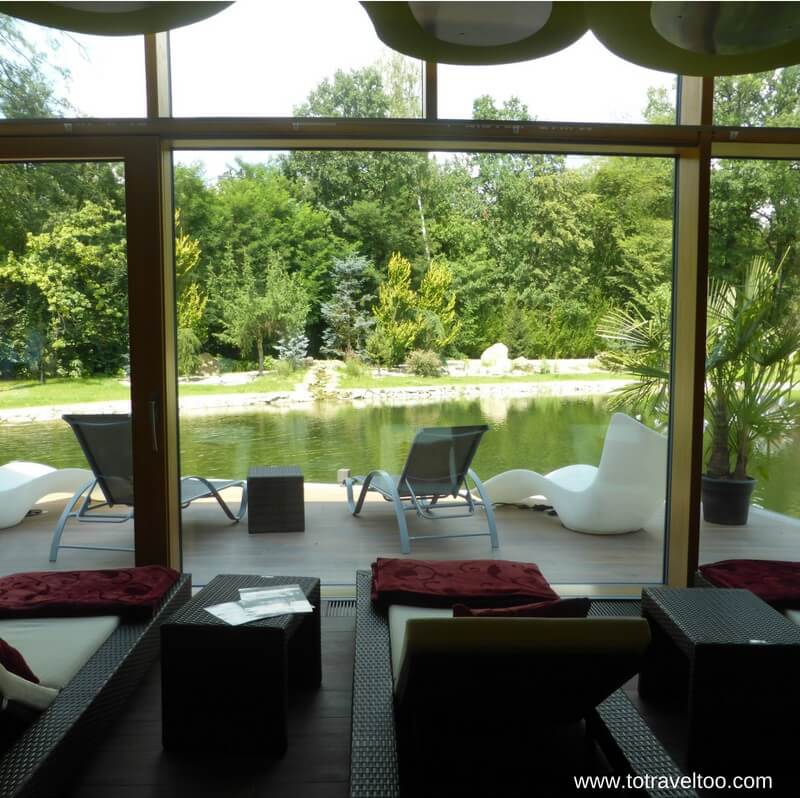 The Chateau Petrovice has one of the most welcoming and stylish Wellness centres we have seen. 800 m2 in size the Wellness Centre is located in the Chateau's park near two ponds. Resident swans enjoy the use of the ponds and the grounds as they waddle around. The facilities include:
7 saunas (herbal and steam)
Wellness Bar
A private spa area with a private whirlpool, water beds, showers and a relaxation zone
A well-equipped Gym
Hot and cold foot spa
Massages and treatments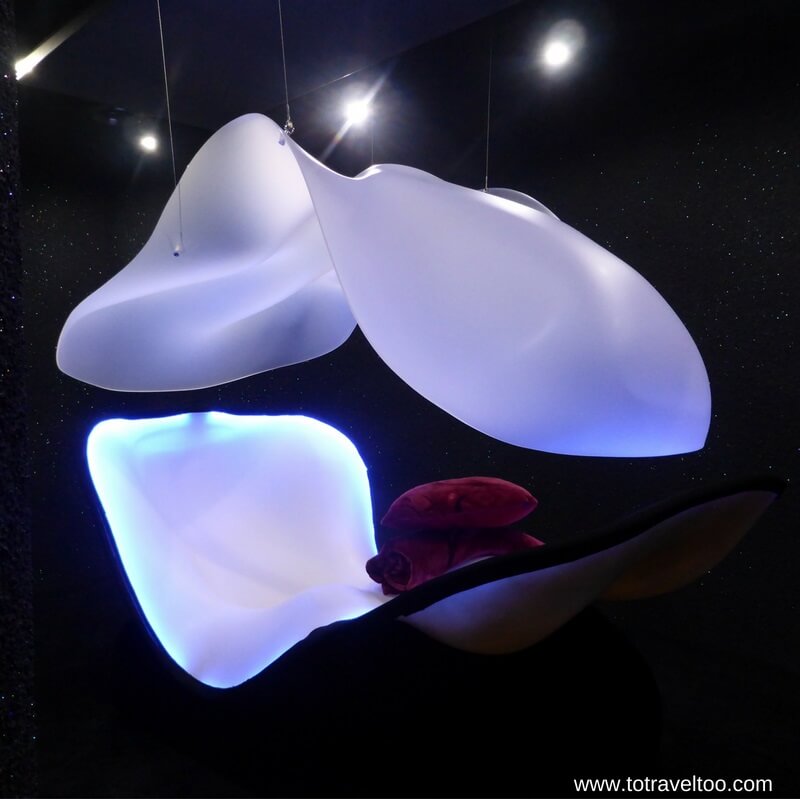 "seventh heaven" an audiovisual experience that is used by the world's doctors and sportsmen who are looking for an effective relaxation, solutions to physical problems and many other physical and mental benefits. Just 20 minutes of laying in this 'seventh heaven' machine is equal to 8 hours of refreshing sleep. We certainly felt better after our session. There is only one in the Czech Republic and we believe there is only one elsewhere in the world. A special treat for all of us.
Sun decks where you can relax and enjoy a drink or two
After our 'seventh heaven' experience, some 'bubbles' by the pond topped off our wellness experience.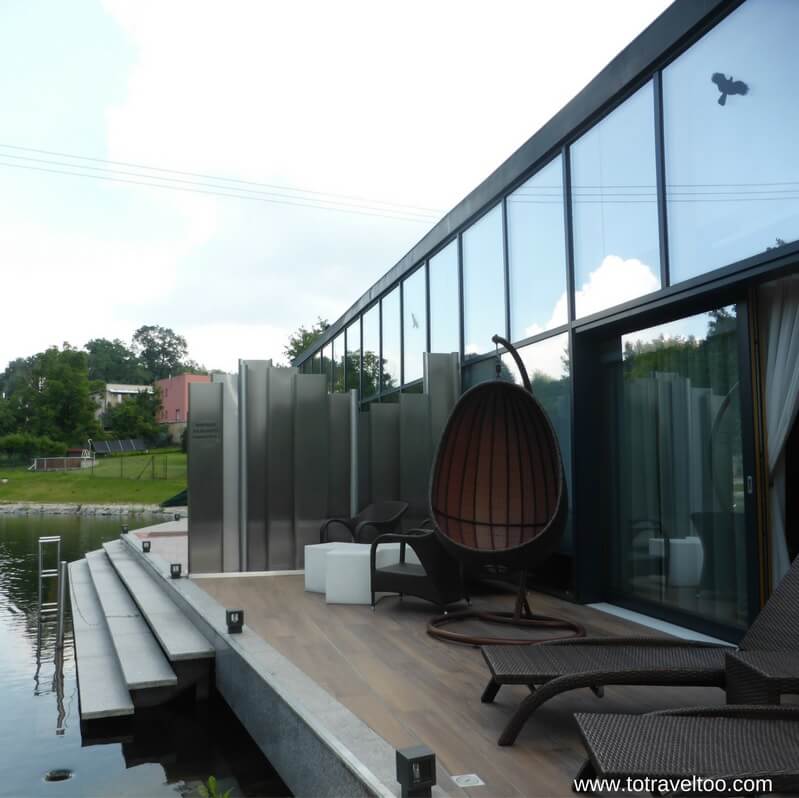 To say we were spoilt that day is an understatement. The staff went out of their way to make sure our visit was a very memorable one. I did check the reviews in Tripadvisor after we returned back to our hotel in Ostrava and when headings like "hidden treasure", "amazing experience", "hidden gem" and "paradise where least expected" were written by other travellers you know that you have come across something special.
Everyone needs some time out from their busy schedules, and give back to themselves, and what better place or location in the Czech Republic than the Chateau Petrovice. But… just don't do yourself an injustice and stay for one night, stay for a week and reap the benefits, you will certainly leave there feeling refreshed and revigorated. We are definitely returning.
We thank Chateau Petrovice, Visit Czech Republic, Moravian-Silesian Tourism and TBEXOstrava2018 for giving us the opportunity of spending a day at the Chateau Petrovice to showcase all that is available.