Philosophy
Our SPA is combined with the so-called wellness philosophy, whose author was the American physician Dr. Halbert Dunn. He believed that in order to achieve health, a balance of body and mind is essential. This means that being in a bad mood can have a negative impact on your health – and vice versa, therefore, in any treatment, just as important as medical treatment are relaxation and an attempt to soothe the mind.
Sauna Part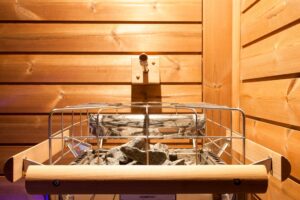 The castle Finnish sauna is typical by an elegant design of horizontal lathing with sharp edges and dark tinted wall and ceiling facing. The Finnish sauna exceeds in its positive effects on our body and the whole organism. During the stay in the sauna our joints and muscles relax and blood circulation in the whole body improves. By sweating the harmful substances are washed away from the body. The expressive strengthening of the immune system happens, among other things by hardening, which is a repeated procedure of warming and cooling the body. Finnish sauna has got a beneficial effect on a respiratory system or rheumatism. The Finnish saunas are operated with temperatures 80 – 95°C and humidity 3-12%.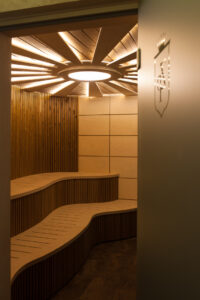 Our SUNARIO evokes a warm atmosphere by a playful rounded design. On the ceiling you will find the motive of solar disc and its rays. From the glassed wall you will be amazed by a view on a castle lake.
SUNARIO is a finer sweating room with physiological properties consistent with Finnish sauna. It differs in lower temperature 50°C and higher humidity 30%. It creates the atmosphere burdening less the heart which is preferable for a longer stay and a recovery. The cabin is by its interpretation created for a pleasant relaxation, a rest and the whole relax of organism.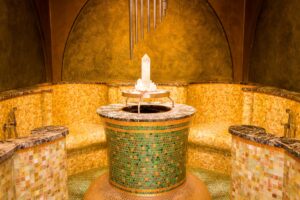 The castle herbal bath is conceived as the classic oriental bath. In a nice rounded area with conception of arch you will feel like in a fairy tale The Thousand and One Nights. The bath is lined with a gold and green mosaic in a combination with a textured plaster with a design sprinkler. The bath area is embalmed by herbs which are macerated in an evaporating water. The pleasant temperature and a stupefying scent of herbs will help to relax the breathing system and evoke the pleasant feeling during a relaxation of a whole body and mind. Let yourself to fascinate by changing the scents.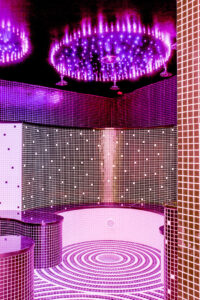 The bath design is showed out by a clean elegant timeless shaping. The circular shapes repetitious on the ceiling, seats and floor enhance their black and white design. By this design you are drawn into the magic world of a steam bath.
The steam with humidity almost 100% is slightly flavoured. The gross fog evokes the intimate and calm atmosphere. In the steam bath the cooling of body by sweating does not happen and thereby the warming is more intensive.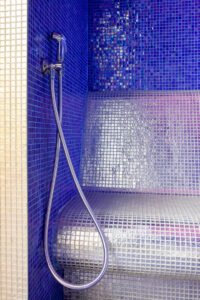 The classical Roman bath used to be the part of every ROMAN THERMALE. The slightly warmed walls and seat facing with a smooth steam atmosphere is ideal for a relaxation with a conversation as in antique spa where the public and business life took place.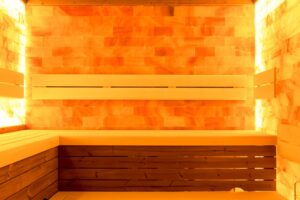 The castle salt sauna's atmosphere is adjusted by facing from Himalayan salt, which special structure originated from the sedimentation over millions of years.
It is a new type of sauna bath where the sauna place is completed by the salt climate (so-called a halotherapy). A dry salt aerosol generator is the only functional equipment with almost 100% salt efficiency compared to salt caves. A halotherapy (an inhalation of salt micro particles) is particularly suitable for a support treatment of: upper and lower respiratory system, dermatological problems, cardiovascular diseases, blood circulation disorders, immune disorders, musculoskeletal disorders, psychic problems; further it relaxes organism, relieves from the effects of smoking and from many cosmetic effects for example slowing of skin aging can be mentioned.
Water section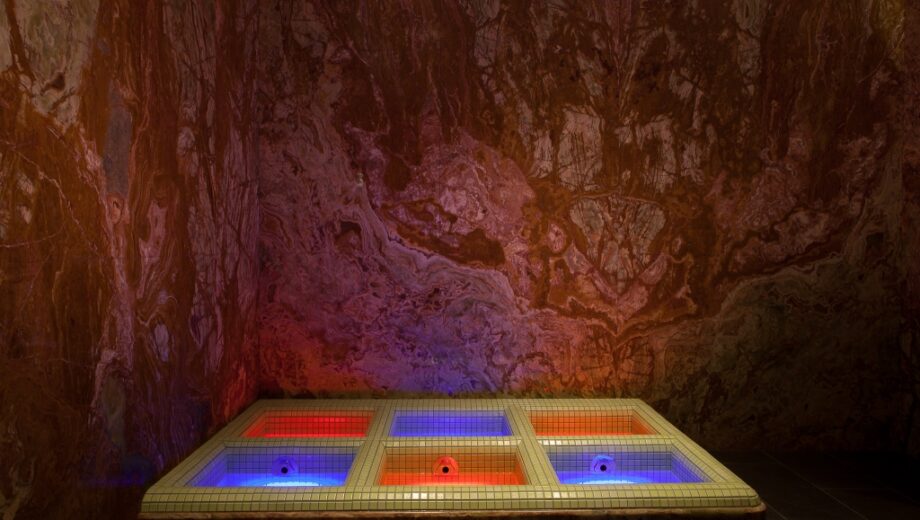 THE KNEIPP THERAPY BATH
The Kneipp Therapy Bath is a natural treatment cure invented by a priest and healer Sebastian Kneipp. Changing hot and cold water distends blood vessels and promotes a blood circulation in feet. The Kneipp spa has a positive effect on the human immune system, supports a tissue metabolism, a blood flow and unblocking the ankles and joints, helps with early varicose veins and has a positive effect on a blood circulation. It helps with a cold feet syndrome.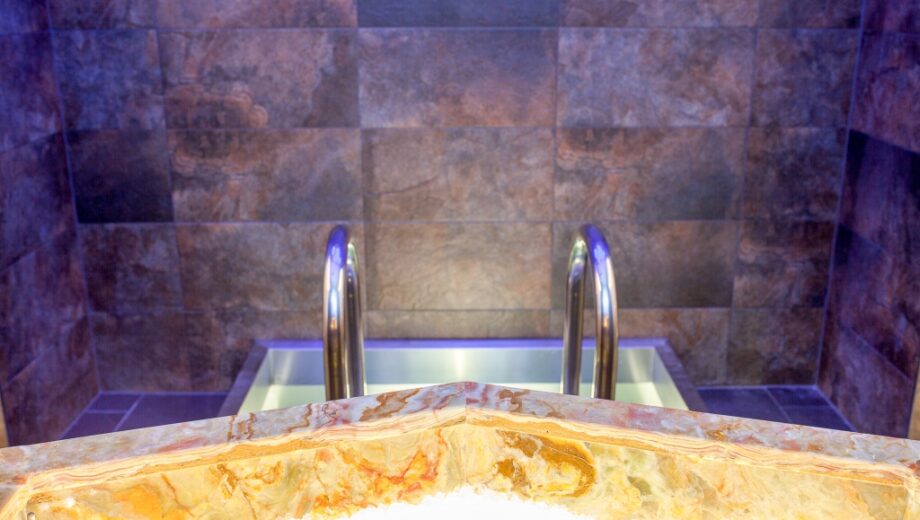 COOLING POOL
A castle stainless steel swimming pool is designed to cool down after the sauna. Refresh your body and prepare it for the next sauna.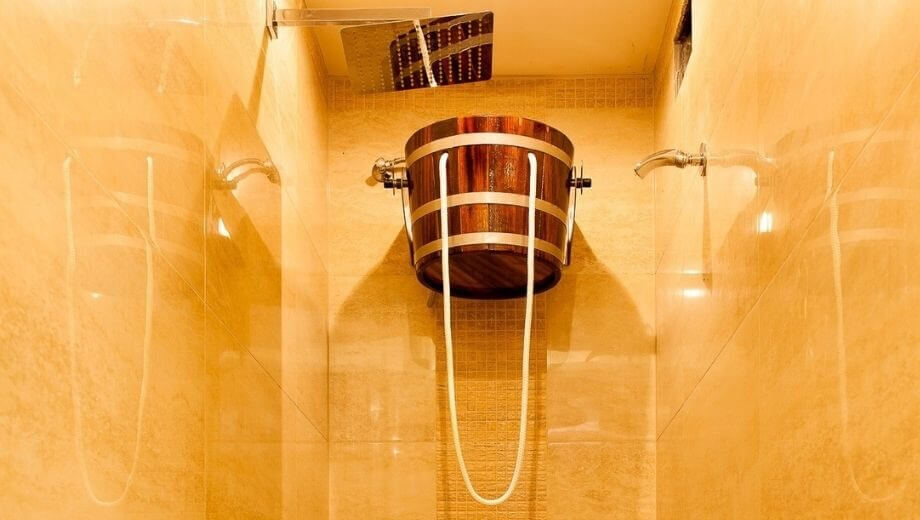 EXPERIENCE SHOWERS
In the castle water world you can find alternating sprays of hot and cold water for courageous. For romantics there is prepared a storm rain. You can try an ice fog for cooling. And if you are a gourmet, we recommend a torrential water flow.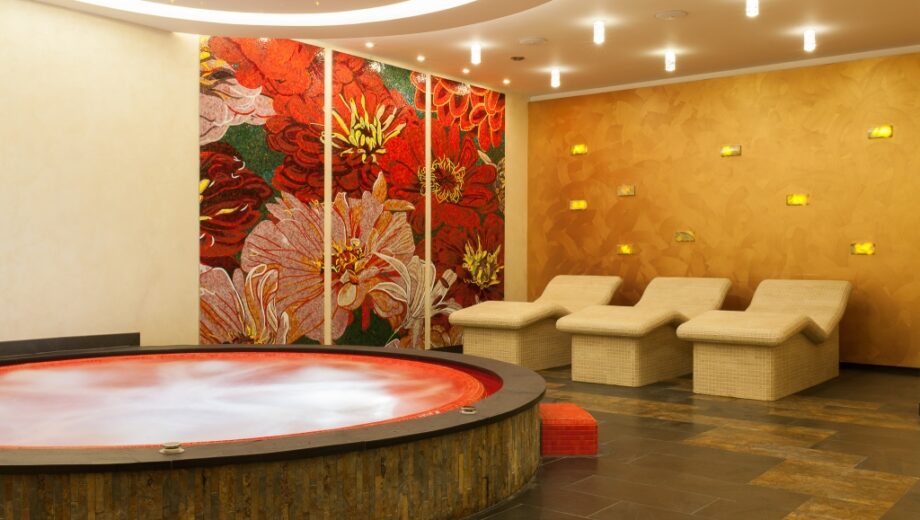 WHIRPOOL – CARIBBEAN STORM
Surrounded by beautiful Sicis paintings, immerse yourself in turbulent water currents; enjoy the hydro massage and bubble bath. We invite you to rest and pleasantly relax with your friends.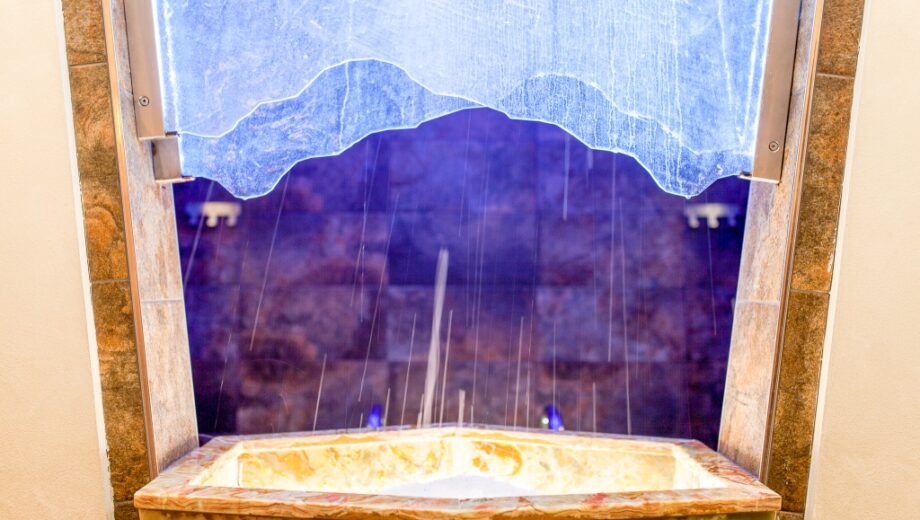 CRUSHED ICE
The ice spring is an ideal, hygienic solution for cooling the body with crushed ice between successive stages of a SPA stay. Soft crushed ice at an appropriate temperature produced by a special device is completely safe for the skin.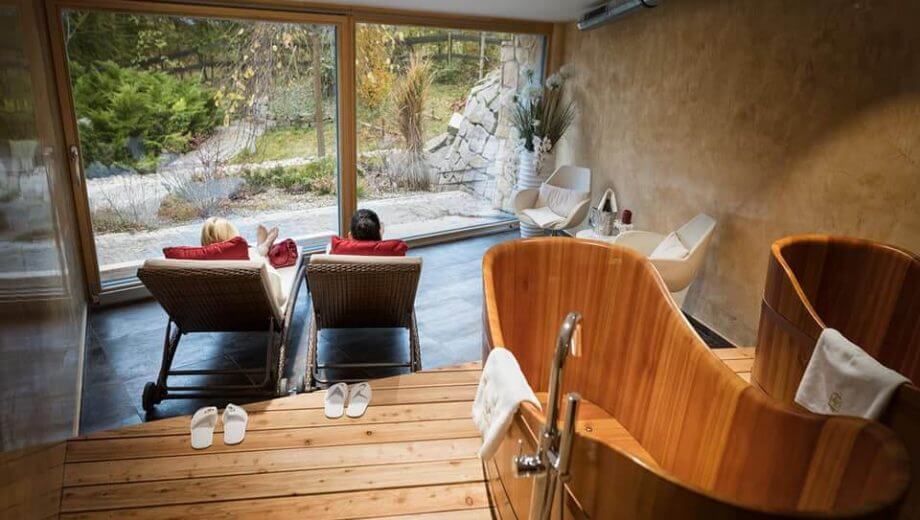 HERBAL BATH
It is made in a wooden tub with warm water and a grate from which air escapes, creating a swirl of water. The client feels like a gentle massage of the whole body. Especially when using herbal ingredients, a bubble bath has pleasant relaxing effects. Herbal baths have a positive effect on the musculoskeletal system, release muscle tension, have an anti-painful effect and reduce mental stress.
Relaxation zone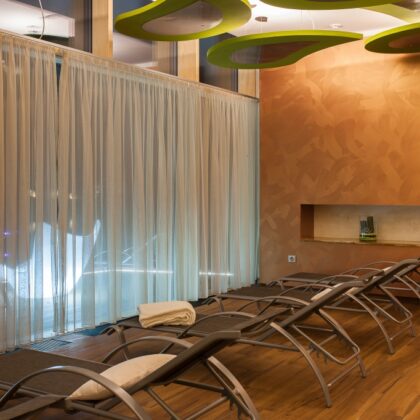 LIGHT RELAXING AREA – LAKE GLITTER
Enjoy the rest in the light relaxing area with the view of the castle lake. When entering into the relaxation area it is worth admiring the tree of life, which was created by the employees of the company Trestles.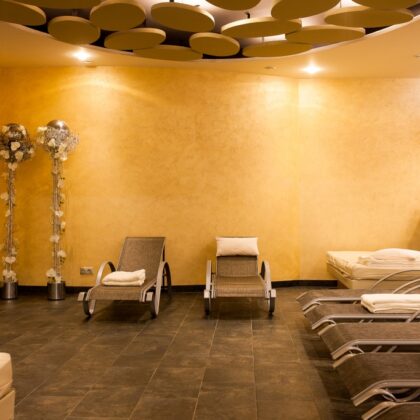 DARK RELAXING AREA
Enjoy relaxing in an intimate atmosphere of our rest area on water beds or loungers.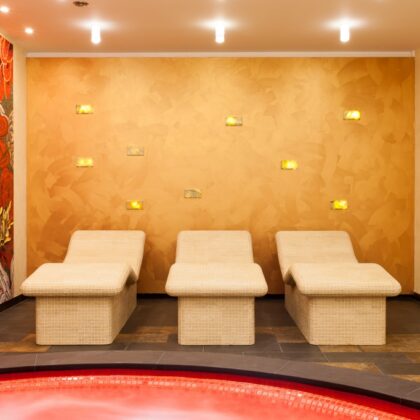 RELAXATION LOUNGERS
In the SPA rooms you will find beautiful mosaic heated loungers offering wonderful relaxation.
RELAXATION TERRACE
Enjoy your stay al fresco on the illuminating loungers and exclusive swings. From the terrace you can enjoy the view of the gorgeous stainless steel lotus flowers made by the company TRESTLES.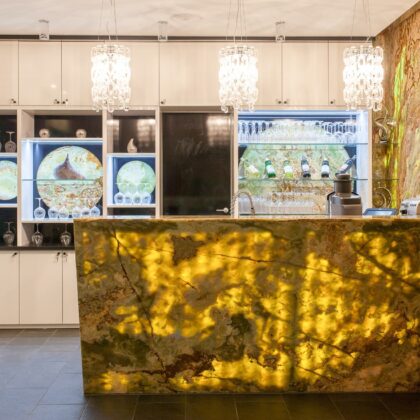 WELLNESS BAR
Our staff will gladly prepare refreshing drinks and cocktails just for you.
Private spa
In the areas of the castle private spa, you can find a combination of various saunas, whirlpool and relaxation rooms along with a downpour shower, cooling bucket, cleansing shower and a relaxing water bed. These places are reserved only for you, your visions and wishes.
Enjoy, for example, watching TV broadcasts with your friends and enjoy the offer going beyond what we have at our Wellness centre. Of course, all other areas of the Wellness centre are available to you and your friends if you wish.
The seventh heaven
In times when we are constantly put under pressure and nervous tension, more and more often do we crave for rest and blissful peace. A team of scientists from SHA in collaboration with a very talented artist has created a holistic spa concept called "Wolke 7 cloud 9".
A relaxation couch commonly known as the "Seventh Heaven", where you can immerse yourself in a world where borders are blurred. Just lie down as if on clouds and go on a journey of deep relaxation. The couch is placed in a special soundproof room. The starting point is a lying surface, made using a three-dimensional technology, which takes the user to the zone of moving in the clouds. Research by the ergonomics institute on the shape of the couch guarantees that you will find even more pleasant places in the "Seventh Heaven" solution. The "Seventh Heaven" couch, floating in the clouds, in combination with a delicate swinging movement, puts the user in a state of oblivion. The second, upper part of the couch rises in an inverted form above the person using the couch, making the user feel as if they were moving in the clouds.
A person sitting on the couch can look up on its upper part, which is used as a platform to produce a special projection of the sky with clouds, or close their eyelids and immerse in their own fantasy. The processes in the media room are inspired by the natural images of clouds in the sky. Both parts of the couch emit interesting lighting effects. The irregular shape of the couch makes the light play with light and darker patterns, which enhance the three-dimensional effect.
A mix of monochrome colours that imperceptibly approach each other starting to merge. The basic frequency of the pendulum is the output product for the composition of sounds. In a wave-like way of inhaling and exhaling, with a swinging motion, different areas of sounds are created, which come out reciprocally, merging with each other. The imperceptibility of rhythmic movements ensures the kinetics of the entire couch. The swinging movement is seen as a slow swing.
Treatments with booking
FACE TREATMENTS
COSMETICS – JANNSSEN, CASMARA AND AINHOA – total skin treatment cleansing, peeling, cleaning, mask by skin type, facial and décolletage massage.
(for total skin treatment dyeing and subsequent correction included)
Length: 90 min / Price: 600 – 700 CZK (price depends on mask type and skin type)
You can also buy Nobilis Tilia fragrant facial oils for total skin care.
Price: 20 CZK
COSMETIC SKIN TREATMENT – PHOTONIC SKIN REJUVENATION
– wrinkle reduction
– acne buffering
– skin brightening
– anti-inflammatory effects
The device can be used directly on the skin during the treatment or when applying a textile mask to the device
attaches directly to the mask. We recommend by skin type.
Length: 5 – 15 min. / Price: 40 CZK
SKIN MASSAGE
Length: 20 min
Price: 380 CZK
FACE AND NECK MASSAGE
Length: 30 min
Price: 450 CZK
MASK APPLICATION
Cream Mask
Price: 130 CZK
Textile impregnated with hyaluronic acid or vitamin C – Price: 170 CZK
Alginate two-component – Price: 170 CZK
Length 15 – 20 min
SKIN CLEANSING
Length: 5- 15 min
Price: 70 – 100 CZK (dependable on skin type)
PERMANENT EYELASHES (LASH EXTENSION AND THICKENING)
Length: 60 – 120 min (according to the density of the eyelashes)
Price: 1000 CZK
Eyelash supplementing – 350 CZK
PERMANENT FOR EYELASHES (LASH TWIRLING)
Length: 60 min / Price: 390 CZK
MAKEUP
Daily – 200 CZK
MAKEUP
Evening – 290 CZK
MAKEUP
Wedding – 400 CZK
Eyelashes dyeing – 70 CZK
Eyebrows dyeing – 70 CZK
Dyeing of eyebrows and eyelashes – 110 CZK
Eyebrow depilation – 70 CZK
Depilation of the upper lip – 110 CZK
Depilation of eyebrows and upper lip – 110 CZK
Depilation of legs including groin – 650 CZK
Partial depilation from the knees down – 300 CZK
Armpit Depilation – 150 CZK
Depilation of hands – 240 CZK
MASSAGES
CLASSIC MASSAGE – The classic massage is suitable for relaxing the muscles and joints of the whole body, rehabilitation and better regeneration. The massage can be done with a reasonable amount of intensity, taking into account the needs of the client, focusing on the particular part that requires care – most often back and neck.
60 min – 700 CZK
30 min – 400 CZK
TOTAL MASSAGE OUTSIDE THE LIMBS – (BACK, NECK, CLEAVAGE AND FACE)
Length: 60 min
Price: 700 CZK
SPORTS MASSAGE – This massage is a systematic manipulation of soft body tissues that focuses on muscles relevant to a particular sport and contributes to recovery after exercise.
Length: 30 min. Price: 400 CZK
Length: 60 min. Price: 700 CZK
LAVA STONES MASSAGE – HOT STONES – Lava stone massage is an ancient massage from China, which will certainly satisfy even the most demanding clients. You will experience a feeling of complete relaxation and harmony. You will completely forget the surrounding world and everyday worries around you.
Length: 60 min
Price: 750 CZK
CUPPING
Cupping is a convenient supplementary method of classical massages that are several thousand years old. Cupping can remove spine and musculoskeletal system pains and also has a positive influence on the function of the internal organs.
Length: 30 min
Price: 400 CZK
FACE, CLEAVAGE, HEAD AND NECK MASSAGE
Facial massage has a great relaxing effect, especially on the central nervous system.
Given that there is a large amount of nerve receptors on the face, facial massage affects not only the nervous system but also the entire body. Unlike other parts of the body, the muscles in the face are attached to the skin and therefore directly affect our appearance.
Length: 30 min
Price: 500 CZK
FOOT MASSAGE WITH A WRAP (COCONUT, PARAFFIN WAX)
Price: 500 CZK
Price: 400 CZK No wrapping
HONEY DETOX MASSAGE – Honey massage is a very effective, traditional method of improving the state of the organism in both acute and chronic diseases. It reduces stress and reduces the consequences of unhealthy lifestyle. It is both a benefit and detoxifier to the organism.
Length: 45 min
Price: 400 CZK
CUPPING AGAINST CELLULITE – During the massage we use a cup that is sucked using underpressure. Cupping has an effect on cellulite removal, especially on buttocks and thighs. It helps us remove toxicants from our organism through sweat glands and the lymphatic system. This method of cupping causes intense blood circulation, which causes its improvement.
Length: 30 min
Price: 450 CZK
DORN PLUS METHOD MASSAGE – Nowadays the Dorn method belongs to one of the most successful alternative therapies and rightly so. The main reason is that it works with the human body as a whole, seeks a source of a problem and very quickly and simply removes its consequences. It helps a person find specific instructions on how to avoid and prevent said pain, but also to realize how and why it occurred, and how to remedy it.
Length: 60 min
Price: 650 CZK
BREUSS MASSAGE – Breuss's massage significantly regenerates intervertebral discs and relieves back pain. The function of the discs can be restored by repeated massage. The gentle moves are actually delaying the vertebrae apart so that the disc has a place. Regeneration promotes St. John's Wort that penetrates into the spine.
Breuss's massage also stimulates the acupressure points that are located along the spine, which also affects the internal organs.
Length: 60 min
Price: 700 CZK
CHINESE PRESSURE MASSAGE (NECK AND HEAD) – Chinese pressure massage is the oldest known type of massage that has been preserved to this day. This massage technique stems from the knowledge of classical traditional Chinese medicine, which is based on a holistic concept of man. It involves the activation of certain acupuncture points with simultaneous facial massage, which reduces stress and creates a feeling of freshness and deep relaxation.
Length: 60 min
Price: 700 CZK
HONEY MASSAGE – A honey massage is not only a pleasant means of relaxation after a challenging and stressful day, but also a means of getting rid of harmful toxins from the human body.
Thanks to the strong effects of honey and the right compression on the skin, the body is cleansed from germs, its pores are cleansed and the skin is moisturized. Based on the detoxification method, the accumulated harmful sediments and toxins are gradually removed from the depth of body tissues.
Length: 60 min
Price: 500 CZK
RELAXING OIL MASSAGE – This alternative relaxation and healing method consists of applying force to the energy paths of the individual organs of the human body called the meridians (the paths in the body through which the energy flows) and their pressure points so that the entire body is subjected to systematic pressure massage from the top of the head through the neck, spine, back muscles, as well as arm and foot massage including fingers. The use of slow and stretchy gestures combined with stretching and acupressure releases energies in the body, relaxes the joints, muscles, tendons and spine.
Duration: 30 min, Price 400 CZK
Length: 60 min. Price 700 CZK
HAWAIIAN MASSAGE LOMI-LOMI – Deep relaxation and regeneration of tissues have long been practiced on the Hawaiian Islands. The basics of this massage are the use of special motion techniques that have a high therapeutic and relaxing effect through their rhythm and energetic potential. Hawaiian massage "Lomi Lomi" (freely can be translated as "kind hands"), so-called "Hawaiian forearms" is a specific alternation of long rhythmic strokes and using stronger pressure with fingers, palms and forearms.
Duration: 30 min  Price 400 CZK
Length: 60 min  Price 750 CZK
CRANIOSACRAL THERAPY – Craniosacral Therapy (CST) is a technique that connects to multiple layers and body matrices using hand-trained hands that perceive and balance the tension of the fascia, the bowel and delicate fluid pressures, strengthen organs, and restore basic rhythms to their natural states. It also represents a parapsychic skill that, through the use of a light but intentional touch, translates into one another the mind, matter, and energy. CST I see as a combination of fine non-invasive surgery – finer than any massage – with silent psychoanalysis, which through palpation releases cysts of trapped emotional and somatic energy.
WHEN CAN IT BE USED?
chronic pain syndromes (back, joints, head, etc.),
migraines,
degenerative and inflammatory diseases of joints, spine and nervous system,
neuralgia,
after surgery and injuries,
during convalescence and after a large mental, physical and emotional burden,
to treat traumas and post traumatic symptoms,
to dissolve emotional and physical shocks,
brain dysfunction, learning disorders and concentration,
in endocrine disorders,
in chronic fatigue syndrome, exhaustion,
in autoimmune disorders (allergies, atopic eczema, asthma, rheumatoid arthritis, psoriasis, multiple sclerosis, etc.),
as a preparation for conception, pregnancy and childbirth,
in psychological exhaustion and depression,
in psychospital crises,
with oncological illnesses
Length: 60 min
Price: 700 CZK
SOFT TISSUES MOBILIZATION – Soft techniques (mobilization) are a recognized method in the treatment and prevention of musculoskeletal disorders. This method works with soft tissues (skin, subcutaneous tissue, muscle, ligaments …), that are interwoven during motion and when overloaded or injured, or even with a static or faulty posture, they are painfully changed. Soft techniques optimize the properties of soft tissues, they're not a massage technique, but a part of manual therapy that releases muscular spasms, removes painful reflex changes in the muscles and increases the mobility of the joints. The therapy is done on a dry basis.
Length: 30 min
Price: 400 CZK
HERBAL BATH It is made in a wooden tub with warm water and a grate from which air escapes, creating a swirl of water. The client feels like a gentle massage of the whole body. Especially when using herbal ingredients, a bubble bath has pleasant relaxing effects. Herbal baths have a positive effect on the musculoskeletal system, release muscle tension, have an anti-painful effect and reduce mental stress.
Types of baths:
Classic herbal spa bath: composition – lemon balm, peppermint, motherwort, hyssop, chamomile and lavender flower, hop cone and rosemary leaf.
For relaxation and well-being: composition – lemon balm, good-natured stem, hop cones.
For rest and relaxation: composition – lavender flower and motherwort stem.
Regenerating body: composition – apple, sage, purple coneflowers, oak bark.
Length: 20 min. bath, 20 min. rest. Price: CZK 350 (one bathtub) / CZK 650 (two bathtubs)
Opening hours:
Opening hours: Monday: 12:00-21:00 - Tuesday – Sunday: 11:00 – 21:00
Price list
PRICE LIST
MON-FRI 14: 00-21: 00 500 CZK / 2.5 hours / 1 person
SAT-SUN / public holidays 11: 00-21: 00 500 CZK / 2.5 hours / 1 personMORNING DISCOUNT PRICE LIST
MON 12:00 – 14:00 300 CZK / 2 hours / 1 person
TUE-FRI 11: 00-14: 00 CZK 300/2 hours / 1 person
Each subsequent started hour – 70 CZK
Children up to 6 years old – free of charge
Children from 7 to 12 years old (50% of the price)
Ticket for 10 entries (valid for 1/2 year) – 4,000 CZK
Private Spa
120 minutes, max. 4 people – 2500 CZK
120 minutes, each additional person – 500 CZK
Each subsequent started hour – 1000 CZK
The Seventh Heaven
We also offer the possibility of purchasing gift vouchers of different values.
In compliance with the Act on Registration of Sales, the seller is obliged to issue a receipt to the buyer. At the same time, they are required to register the received income with the tax administrator via the Internet. In the event of a technical failure, no later than 48 hours.